Boston schools turn to hackathons to optimize bus routes, school start times​
The city's public schools are looking to tech community to find more efficient operating schedules for bus riders and facilities.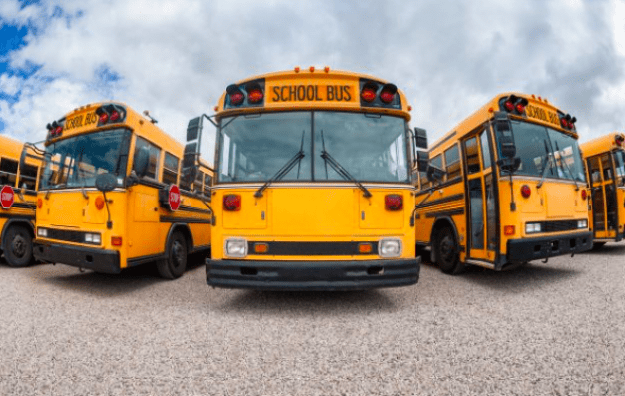 Educating 56,000 kids is just part of the job Boston Public Schools officials face each school day; getting them to and from the city's 125 schools on time is another.
All that scheduling takes a lot of planning and ingenuity. That and rising transit costs have prompted Boston Public Schools to turn to the civic tech community for help to find the quickest and most convenient routes for its students, hoping the announcement of two hackathons for technologists will contribute some improved approaches.
The first is a month-long challenge for a tool that can chart the best routes, and the second is a two-month hackathon that assesses optimal school start times. BPS is holding a kickoff event on April 1.
In its 2016 fiscal year, the school district reported transportation costs of $110 million — a figure that represents 11 percent of its yearly budget and is the second-highest on a per-pupil basis for districts nationally. Since 2011, transportation costs have risen by $33 million, a 7.5 percent annual increase. Further complicating issues, the district reported its school start times have grown increasingly imbalanced among schools, with some starting earlier and others later.
John Hanlon, BPS chief of operations, said that while the district has explored various solutions from tech venders to internal fixes, the choice to remedy the issue with hackathons provided the perfect way to co-create solutions with residents.
"One of the reasons why we're really excited about this is it because it's really a new era for government, and it's no longer the days of government solving problems behind closed doors and then having a top down approach to dealing with their constituents," Hanlon said. "We've really opened this up to the public and to the smarter people out in the world to reinvent how government solves problems."
As for data, Hanlon said the plan is to release as much as can be useful to participants. Some released data will include the current bus routes, drop off spots and bell schedules, but there will also be anonymized student address data that can be made available on request. Strategically BPS is working to consolidate bus stops to improve efficiency, decrease ride times and improve bus service for the district's three school start times at 7:30 a.m., 8:30 a.m., and 9:30 a.m.
BPS wants innovators to engineer an algorithm that can balance services for all three of the times — since it remains impractical for all schools to start at one time. Due to the complexity of this task, BPS will extend the length of the hackathon beyond just a single day.
"We want supply as much as data as possible so the participants involved will know what schools are dealing with," Hanlon said. "It's not necessarily a traditional hackathon where we say, 'Let's see how far you can get in a day. We're really hoping that people can come out of this with something worthwhile."
Prizes for the two hackathons will be announced soon, while BPS Strategic Projects Manager William Eger said those looking to get a head start brainstorming can find example data sets and additional details on the hackathon's website. Real data sets will be available April 1.
Contact the reporter who wrote this story at jason.shueh@statescoop.com and follow him on Twitter @JasonShueh.