DeVos closes out Computer Science Education Week at coding school
The Education secretary visited Moorefield Station Elementary School, which launched a coding immersion program this fall.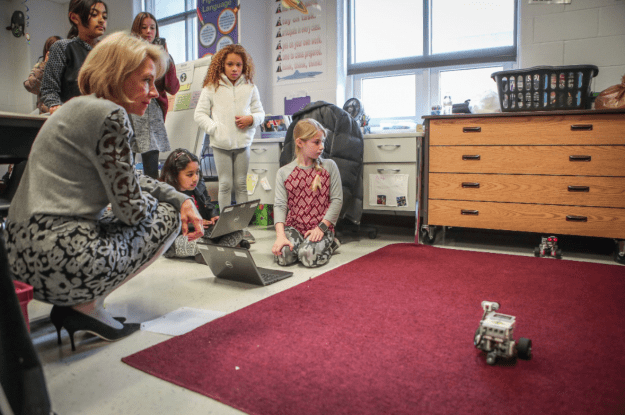 Education Secretary Betsy DeVos capped off Computer Science Education Week with a visit Friday to a public elementary school in Virginia where coding is as intuitive as lunchtime.
During her visit to Moorefield Station Elementary School in Ashburn, Virginia, DeVos "participated in a computer-coding lesson with students to learn about computer immersion programs and innovations across STEM education," according to a statement from the U.S. Department of Education.
Photos from the school's Twitter account show first graders telling DeVos about their their coding projects and other students using code to operate small toys and robots while the secretary observes.
"Great way to end #CSEdWeek with the students @MoorefieldES!"
DeVos wrote on Twitter. "The teachers have done a tremendous job incorporating
#coding into their curriculum…and the kids have caught on so fast! It's
exciting to see what students actively engaged in their learning can
accomplish! #STEM"
Moorefield Station is one of just three coding immersion schools in Virginia, according to a report published in The Loudoun Times-Mirror earlier this year.
That means students at Moorefield Station Elementary spend at least 30 minutes every school day on coding activities, and computer science is foundational to the curriculum. Over the summer, before the program launched, Moorefield Station teachers learned how to code and the school received new equipment to support the initiative.
Like Moorefield Station, Virginia's other two coding immersion schools are located in Loudoun County. Eight of the county's 55 elementary schools applied for the program.
"There's a significant gap between the students prepared to have jobs in computer science and the growing number of jobs available and needed in computer science," Ashley Ellis, assistant superintendent of instruction, told the Times-Mirror in September. "We feel really strongly that we should be preparing our students for the jobs that they will have when they graduate and leave us."
It's that same idea that has prompted DeVos, as well as the entire Trump administration, to turn its attention to computer science education.
DeVos has made STEM education one of her key issues during her first year as secretary, focusing especially on computer science, and this fall, President Donald Trump directed the Education Department to spend at least $200 million annually on computer science education when awarding grants.