Schools dive in to Computer Science Education Week
This week, students and teachers across the globe will participate in coding activities and promote computer science education in schools.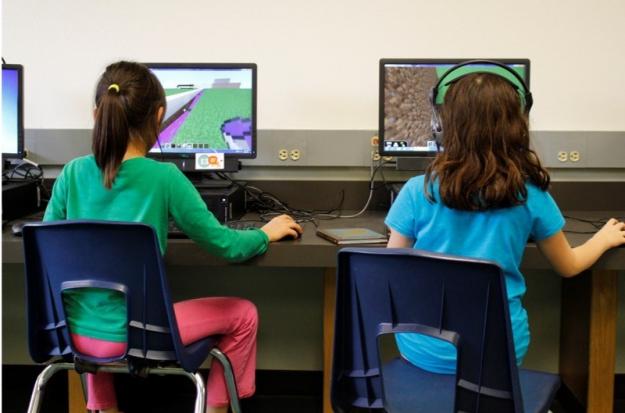 Monday marked the beginning of Computer Science Education Week, an annual worldwide program dedicated to encouraging K-12 students to engage with coding and computer science.
The week, which was organized by Code.org, kicked off with a livestreamed discussion with prominent female tech leaders such as Melinda Gates, Peggy Johnson, Sheryl Sandberg and Susan Wojcicki.
Code.org is encouraging students and educators to partake in Hour of Code — a one-hour introduction to computer science that aims to "demystify code" and teach its basic principles. Students are also able to explore the site's App Lab, which guides middle and high school students as they create their own apps and learn about JavaScript.
Large tech companies like Microsoft are also taking part in this week's activities and working with legislators to promote computer science instruction in schools.
"This is an all-hands-on-deck week for us at Microsoft," said Jane Broom, senior director of education programs and policy at Microsoft Philanthropies. This week, Microsoft is using its retail stores to host Hour of Code workshops, deploying its government affairs team to work with legislators to promote coding, and hosting educational events at its sales offices.
Celebrities have joined the movement this year to boost computer science education. Through online competitions, students and teachers participating in Computer Science Education Week can win the chance to video chat directly with public figures like the Golden State Warriors' Stephen Curry or the Seattle Seahawks' Russell Wilson.
In addition to games and activities, this week is also dedicated to furthering a variety of important edtech initiatives, such as promoting women's presence in the computer science workforce and increasing students' opportunities to study coding.
According to Hadi Partovi, founder and CEO of Code.org, 10 million girls currently have accounts on the site.
"If only 1 percent of the girls actively learning on Code.org continued past high school, they'd outnumber the gender gap in university CS," Partovi said.
"We see so much excitement and so much transformation happening in this field," Broom told EdScoop. "But, at the same time, we see many young people underrepresented, and those young people are too often girls and minorities. … We see that as a very big disconnect. Our mission is for everyone on the planet to achieve more, so when we see a disconnect like the one I just mentioned, it creates a sense of urgency to create more equity of opportunity for all students."
The movement for more accessible computer science education in schools has gained momentum over the past year as the Trump administration promised to increase spending on computer science education, Virginia became the first state to require computer science education in its schools, and states like Wisconsin have given it a boost in schools as well.
With this initiative, Code.org is bolstering even more support for computer science education by asking teachers and administrators to sign a pledge that they will fight to bring computer science to their schools.