'Good riddance': Education Secretary Betsy DeVos steps down
Education Secretary Betsy DeVos stepped down on Thursday, prompting educators and industry leaders to publish scathing reviews of her nearly four-year tenure.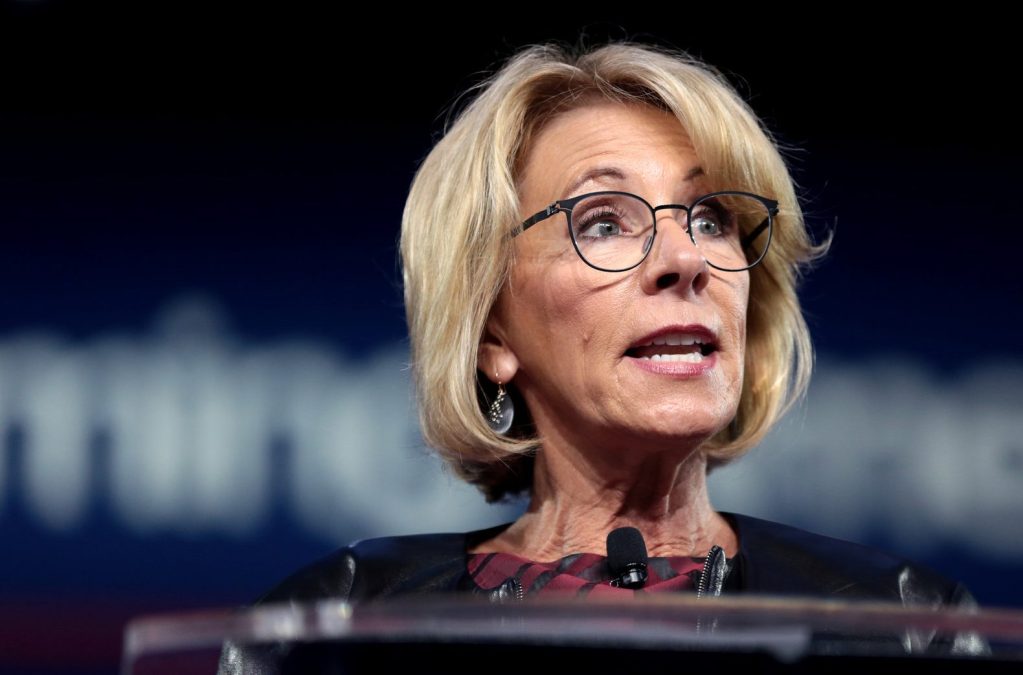 After nearly four years serving the Trump administration, Education Secretary Betsy DeVos resigned on Thursday over the Capitol Hill insurrection by a mob of the president's supporters. DeVos is the second member of Trump's Cabinet to resign; Transportation Secretary Elaine Chao also resigned on Thursday.
"We should be highlighting and celebrating your administration's many accomplishments on behalf of the American people," DeVos wrote in a letter to Trump, The New York Times reported. "Instead, we are left to clean up the mess caused by violent protesters overrunning the U.S. Capitol in an attempt to undermine the people's business."
Deputy Education Secretary Mitchell Zais will serve as an acting replacement, but DeVos' departure, announced less than two weeks before President-elect Joe Biden is to be sworn into office, will do little to affect operations at the Department of Education, said Jarret Cummings, senior adviser for policy and government relations at Educause.
"I don't believe that the current Department of Education leadership has any significant regulatory actions still in process, so the Secretary's resignation isn't likely to disrupt any last-minute actions that she might otherwise try to push through," Cummings wrote in an email to EdScoop. "She basically just moved forward her departure by several days."
The secretary's abrupt resignation prompted scathing reactions from educators and lawmakers.
Massachusetts Sen. Elizabeth Warren on Twitter Thursday called DeVos "the worst Secretary of Education ever."
"Betsy DeVos has never done her job to help America's students," her tweet read. "It doesn't surprise me one bit that she'd rather quit than do her job to help invoke the 25th Amendment. Good riddance, Betsy. You were the worst Secretary of Education ever."
American Federation of Teachers President Randi Weingarten released a two-word statement following DeVos's resignation that simply read: "Good riddance."
National Education Association President Becky Pringle joined in the bitter sendoff for DeVos, tweeting that "complicity, cowardice, and complete incompetence will be her legacy."
DeVos' nearly four-year stint as education secretary has been a "mixed bag," Cummings said. He called the Education Department's approach to regulating online and distance learning under DeVos "a surprising success," and credited her with furthering discussions on protecting student data.
"But there are certainly issues that the higher education community would like to have seen handled differently," Cummings said. "The promise of public service loan forgiveness and income-based loan repayment to relieve student loan burdens remains largely unfulfilled … and the distribution of pandemic relief funding was also unnecessarily complicated by the Department."
Instructions for how institutions could use CARES Act funding were narrowly prescribed, often frustrating efforts by colleges and universities to use the money to address financial challenges brought on by the pandemic, and some education policy experts said the Department of Education offered only limited guidance on acceptable uses of the funding.
In contrast to the largely disapproving response to DeVos' tenure, educators and industry leaders have expressed optimism about Biden's pick for education secretary, Connecticut Education Commissioner Miguel Cardona, whose former colleagues have described as a strong advocate for educational technology and student success.