Five ways makerspaces can support classroom learning
Commentary: edWeb.net's Stacey Pusey recounts how students from Vermont shared ways tech-centric spaces have enhanced their educations.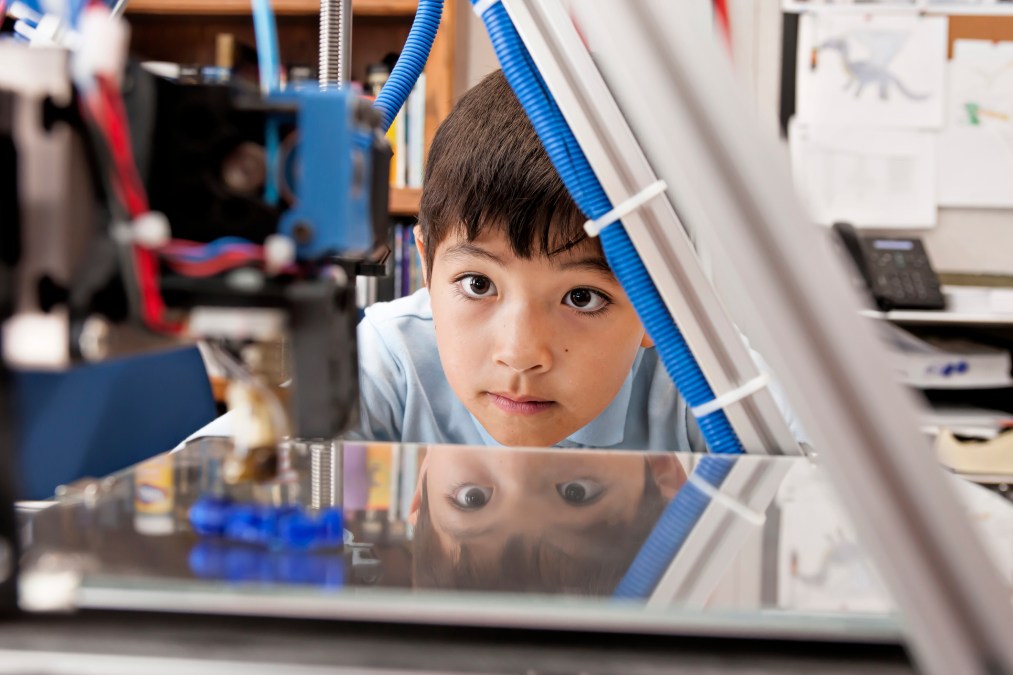 At St. Albans City School in Vermont, educators are encouraging students to find ways to incorporate digital resources into their everyday work, especially while working in the school's makerspace.
In a recent webinar hosted by edWeb.net, one of the school's innovation specialists, Grace Borst, is joined by several of her students, who explain how they're using the technology-laden space to develop personalized learning plans, do service work, and augment school activities.
The makerspace, which is open to all of its students from pre-kindergarten through 8th grade, is used for class assignments and also offers open lab time. Students use this time for school and personal projects where technology might not be required but could add value. Students can miss class for open lab, but teachers recognize the benefits of letting students explore technology to help them achieve both personal and educational goals, Borst says.
Here are some examples the student presenters shared about how they've used technology at St. Albans:
1. Developing digital portfolios and personalized learning plans
Every student at St. Albans has a personalized learning plan, which they help develop during their time at the school. The school's makerspace is integral to this work. Instead of traditional report cards, students assemble digital portfolios to show how they're progressing. Students upload their homework, projects, pictures and reflections on their progress. For the students, the best part of the portfolios is that they can see how their work and their goals change over the years.
2. Guiding stewardship projects
Each student at St. Albans belongs to a learning community that covers two grade bands and works on a stewardship project for the whole school year. The projects are service-oriented, such as building a pollinator garden and bee hive, and students use digital resources to complete the project. For instance, students didn't just research bees online. They had a bee robot that they learned to program to better understand bee behaviors.
3. Supporting school activities
St. Albans began a new tradition this year, called College Weeks, that celebrates local colleges. Every student joined a college team and participated in competitions. Two of the webinar's presenters were tasked with creating trophies for the winners. They researched trophy designs, used software to create the trophies, and printed them using the makerspace's 3D printer.
4. Enhancing class assignments
Another student explained how she used the makerspace and digital resources to support her civics project. She started a petition to ban plastic straws in her town and wanted to give signers a sticker to thank them. She used the school's design software and vinyl cutter to develop and print her stickers. She's also creating a digital presentation to present to the city council. Technology was not required for this assignment, but she found ways to incorporate it to support her goals.
5. Aiding community activism
The final presenter wanted to raise money to support the local humane shelter. During her time in the makerspace, she learned how to design and create keychains to sell at local veterinarians' offices and at fundraisers. This was the student's first time using many of the tools in the space, but she said she can now see herself coming back to use it for school projects.
Borst said the most exciting part of the students' stories wasn't about the technology they used, but what they learned about perseverance and the possibilities for future projects.
"One of the biggest learning curves for students coming into the makerspace has been realizing the amount of time it takes to make anything, especially when you're doing it from conception to the prototyping and then trying to actually get a finished product after that," Borst said. "But this has also been what has hooked many of our students. They come in to start one project, they've one idea, they stick around because they figure out all of the other possibilities that they can use the makerspace for, and they keep coming back."
About the presenters
Grace Borst is one of two innovation specialists at St. Albans City School in Vermont. She has the unique role of being able to work with students one on one or in the class setting. She also has the opportunity to collaborate and co-teach with colleagues to integrate technology into their lessons and projects. Technology is so pervasive in students' day to day lives. Grace believes it is the teacher's job is to inspire them, educate them, give them access and help them use technology safely.
About the host
Christine Fox is the deputy executive director for the State Educational Technology Directors Association. As deputy executive director, she collaborates with the executive director in charting strategic direction, administration, planning and financial decisions involving SETDA. She also facilitates the members' professional learning opportunities including planning and implementing the content for SETDA's virtual and in-person events and newsletters. She manages many of SETDA's research and product development projects from conception to publication. The management of such projects includes coordinating data collection from all states, supervising consultants and staff, ensuring member input and supervising the publishing process. Recent publications and projects include "Navigating the Digital Shift," "Digital Instructional Materials Acquisition Policies for States," "OER Case Studies: Implementation in Action," "The Broadband Imperative" and "From Data to Information." Christine's background includes experience in education and consulting. She has worked as an educational consultant and curriculum developer for a national whole school reform model, ESOL coordinator and 3rd grade teacher. Christine has a masters of science in teaching English as a second language from Florida International University and received her bachelor's degree in English literature from Florida State University.
Join the community
Student Voice is a free professional learning community on edWeb.net that helps you take student voice to a new level and build student aspirations and ignite academic motivation.
This edWeb webinar referenced above, sponsored by AT&T Aspire, can be found here.