Five ways to close the homework gap
Commentary: By rallying community members and thinking creatively, schools can connect more of their students to the internet.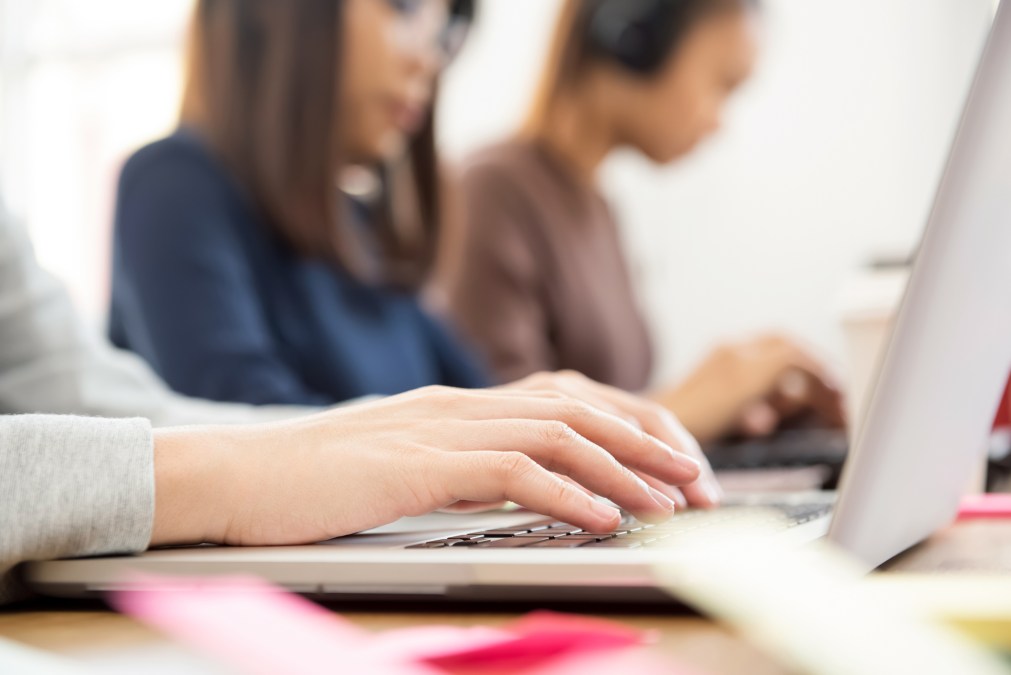 Most learning today involves the internet and this is a major challenge for schools with students who don't have easy access to technology.
Many schools are equipping their students with devices, but that alone isn't enough. Students also need access to Wi-Fi or some other way to connect to the internet, whether they are at school or elsewhere. In a recent webinar hosted by edWeb.net, educators talked about the challenges and potential solutions to fulfill the promise of "anytime, anywhere" learning.
Using recommendations from the Consortium for School Networking, the presenters highlighted five key steps to reduce the "homework gap."
1. Create a common vision
Reducing the homework gap isn't about deciding which technology a district uses, said Carol L. Kelley, superintendent of Oak Park Elementary School District 97 in Illinois. But rather, ensuring all students have equal access to technology and the internet should be part of a larger discussion about how schools are serving their students' needs, she said.
Her district, for example, has four goals related to providing students the equal opportunity to learn. None of them talk about technology, she said. Instead, each looks at how to leverage technology to achieve that goal.
2. Convene your community for action
Just as developing a vision is done through stakeholder support, so too should schools rely on their communities to best understand their needs, said Michael Arensdorff, a senior director of technology at Oak Park Elementary. Arensdorff said he meets regularly with an advisory committee consisting of students, library representatives and district administrators.
He said his committee uncovered that one barrier to internet access was library cards, since not everyone had one. The school streamlined its process for administering library cards, including library card registration with overall school registration.
David J. Seleb, executive director of the Oak Park Public Library, said that these types of partnerships are part of the library's overall purpose, which includes providing access to the whole community. He said the library staff constantly communicates with community leaders to find out how they can assist them, often using the technology as a tool, not the end goal.
3. Get creative with Wi-Fi and hotspot deployment
When it came to developing the district's plan to create equal access to educational technology, Arensdorff said administrators reached out to teachers, colleagues, vendors, and their school community. They needed to know where the community saw barriers, especially home Wi-Fi access, and how the district could help. By talking with vendors and other districts, they were able to find grants and other programs to help facilitate access.
4. Learn how others are closing the homework gap
Beth Holland, CoSN's digital equity project director, said there is value in talking with colleagues and finding out how other schools are attempting to create equal access to technology. But each district and region is different she said, despite a tendency for administrators to seek panaceas.
Instead, administrators should combine their research with their knowledge of their unique communities, using the pieces that might work for them and where they might need to come up with their own solutions. For example, in some communities, she said, technology surveys may need to be printed in multiple languages, but in other communities, home visits or phone calls might work better.
5. Don't forget the training
Presenters also reminded attendees that schools should hold ongoing technology training for students and staff. Some can be done by teacher-librarians. Other tools might require assistance from a vendor. Most importantly, Holland said, is avoiding one-time sessions, because training should be an on-going process.
"The research has shown … that the most successful professional learning is focused. It's very specific to grade level, subject level, skill level — whatever it is you're trying to do," Holland said. "What's really important is it has to be ongoing and situated in context. And so the one-and-done workshop can be great for sparking an idea, but to think we're going to bring about real classroom change with a one-day workshop, it isn't really going to happen."
About the presenters
Dr. Carol L. Kelley is superintendent of Oak Park Elementary School District 97, a pre-K–8 public school system in Oak Park, Illinois, with 6,150 students. Kelley is deeply committed to addressing historical disparities in school systems and realizing a compelling vision of educational equity for every student. A sought-after speaker and thought leader, she has been widely recognized for her professional work and contribution to education. Before joining District 97, Kelley spent three years as superintendent of schools for the Branchburg Township School District in New Jersey. Previously, she was director for curriculum and instruction for Hunterdon Central Regional High School in New Jersey. Earlier, she served as a building administrator and elementary teacher, also in New Jersey.
Michael Arensdorff has worked in Oak Park School District 97 in Illinois since 2007. He has been the senior director of technology for the last five years. He manages a cutting-edge technology team that implemented a 1:1 program for grades three to eight in 2013-14 of more than 4000 devices (It was refreshed in 2017-2018), a new voice-over-IP system, and a transformative copier solution. He assisted in the move of an administrative/data center office and is in the midst of planning a joint fiber build project with the Village of Oak Park. Michael's work has included the voices of students, staff and families in a variety of capacities, with the Technology Advisory Committee being the spotlight of this work. He was recently a panelist on at a statewide event on data and security. Michael is a Board member for the Illinois Educational Technology Leaders organization.
David J. Seleb has served as executive director of the Oak Park Public Library in Illinois since May 2013. Previously library director of the Indian Trails Library District based in Wheeling, Illinois, David also served as director of the Winnetka-Northfield Public Library District and the Blue Island Public Library. He was director of consulting and continuing education with the Metropolitan Library System and today remains active in the Illinois Library Association. Most recently, David served as the board president of the SWAN area consortium, was a member of the ILA Nominating Committee, the chair of the ILA Public Policy Committee, and the chair of the ILA Fundraising Committee. With 18 years of library management experience, David earned his master's degree in library and information science from Dominican University in 1995, and his bachelor's degree from Saint Xavier University in 1989.
Dr. Beth Holland is the digital equity project director for the Consortium for School Networking and a postdoctoral research fellow at the University of Rhode Island. Over the past 20 years, she has taught in K-12 classrooms, served as director of academic technology in a PS-8 independent school, designed professional learning experiences for schools around the world, and developed leadership programs to support systemic change. Additionally, she is a prolific writer, researcher, and speaker. Holland holds an education doctorate in entrepreneurial leadership in education from Johns Hopkins University, a master's degree in technology, innovation, and education from Harvard University, as well as a bachelor of science degree in communications from Northwestern University.
About the host
Ann McMullan is a 34-year veteran educator who served as the executive director for educational technology in the Klein Independent School District, located just outside Houston, Texas, until September 2013, when she and her family moved to Los Angeles, California. For 16 years McMullan led the team in Klein ISD that provided professional development on technology and 21st century instructional strategies to more than 4,000 professional educators serving more than 50,000 students. During that time she also co-chaired the Texas Education Technology Advisory Committee which developed the Texas Education Agency's Long Range Plan for Technology, 2006-2020.
Today, McMullan is based in Los Angeles, California, working as a public speaker, writer, and independent education consultant focused on supporting leadership, visioning and planning to meet the needs of today's students. She is a frequent presenter at state, national and international education conferences. She serves on the advisory council of Project Tomorrow and is a leadership consultant with Executive Service Corps of Southern California, serving non-profit associations. In the fall of 2016 she co-authored and published Life Lessons in Leadership.
Join the community
Super-Connected is a free professional learning community on edWeb.net for school superintendents, district leadership, and aspiring district leaders.
The edWeb webinar referenced above, sponsored by ClassLink and co-hosted by CoSN, can be found here.