​Google reinvents the classroom, again
The company announced its latest release of edtech apps and gadgets at ISTE.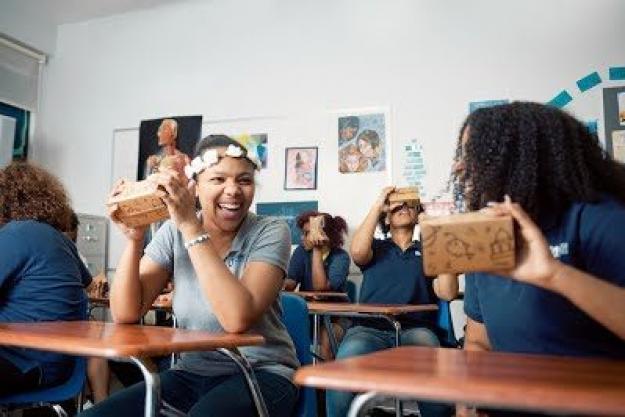 Google has created new gadgets that send students on virtual field trips and allow teachers to automatically grade assignments.
The tech company announced in advance of the ISTE conference in Denver that anyone can go anywhere – virtually, that is – through the Expeditions app. The app is available Monday for Android users, and is expected to be available for Apple products soon.
Teachers will be able to take their students on virtual field trips to anywhere in the world, with more than 200 destinations to choose from, including The Great Wall of China.
The Google for Education Professional Development Partner Program has selected MobileMind, a technology services company, as a partner to provide training to teachers on how to integrate digital tools.
Google also upgraded its Quizzes app in Google Forms, which generates interactive documents like surveys and job applications, and now enables teachers to automatically grade multiple choice and checkbox-style questions. This way, Google officials said, teachers can spend less time grading and more time instructing.
Students and teachers can wirelessly share their screens through Google Cast for Education. The app is free and can display both audio and video. It is also compatible with Google Classroom, an app designed to help teachers stay organized and communicate with students.
"With Cast for Education, when I see students stuck on a problem, I ask one student to cast her screen and walk us through the challenge," said Erin Turnbach, a second grade teacher in New Jersey, according to a press release. "Everyone engages and the students take ownership of their learning."
Google is currently creating a collection of educational apps for Chromebooks that schools can purchase in bundles at discounted prices.
"Students want to work with digital content," said Tom Cranmer, chief technology officer at Richland School District Two in South Carolina. "They want to create. They want to pull in multimedia resources that they can use to create their world and create their stories."
Reach the reporter at darlene.aderoju@edscoop.com and follow her on Twitter @buuukky.