How one K-12 technologist deals with the most common innovation hurdles
The chief technology officer of Austin Independent School District says technology is the missing piece for many classrooms today.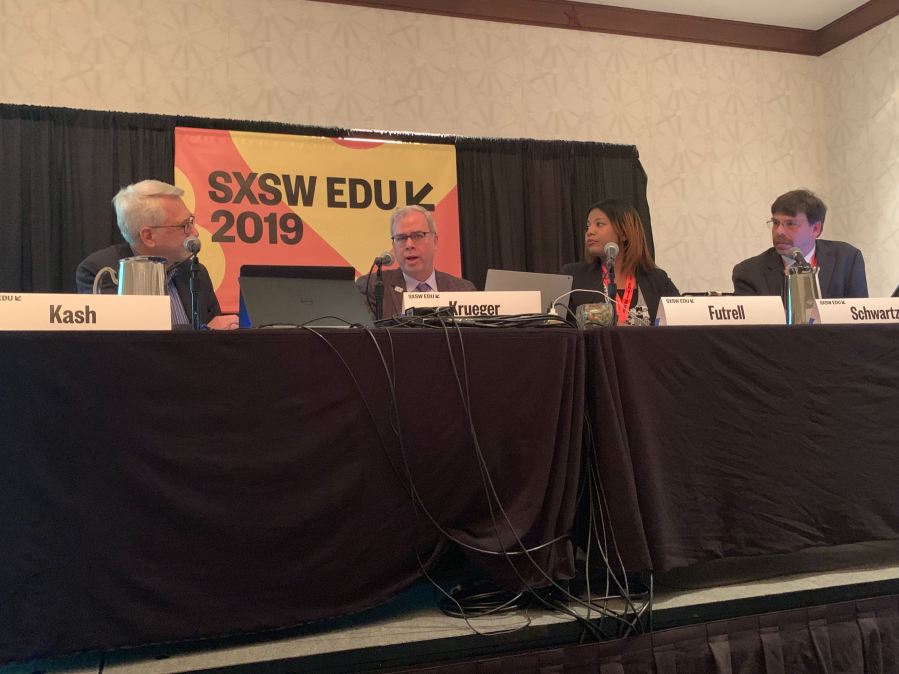 Kevin Schwartz, the chief technology officer at Austin Independent School District can remember the first time he realized that education technology could change the way a classroom worked.
"I've been in technology for 30 years and K-12 for 25, but the moment was about 10 years ago, when we were piloting one-to-one and doing it in a little group of 50 special education students," Schwartz said. "And it was a transformative moment to have those kids be so enabled by the access and how it worked in so many different ways for so many kids."
Not all education technology fits into the classroom smoothly, however, and not all classrooms are built to engage with the latest innovations. Schwartz, onstage at South by Southwest EDU 2019 in Austin, Texas, last week, shared his administrative perspective on how K-12 classrooms can overcome the hurdles new edtech can bring into a school. The answer, he said, is to get buy-in from everyone, from the teachers to the community.
Common hurdles — listed in a report published by the Consortium for School Networking in January — include scaling and sustaining innovation, digital equity, the gap between technology and pedagogy, ongoing professional development and technology and the future of work.
"Change is actually hard," Schwartz said of the first hurdle. "It's fun or easy to pilot something, but hard to make a systemic change."
Within his 80,000-student district, Schwartz and his team have implemented the Canvas learning management system across 130 schools and all grade levels. While the system is designed to increase collaboration and transparency inside every classroom, Schwartz said he saw that it wasn't being used equally.
"We're finding out the offering of the technology is equal, but its not equitable, and we're not seeing equitable use of it," Schwartz said. "So we have more work to do even to drive that change deeper into our position."
More than 60 percent of students in his district are economically disadvantaged, Schwartz said, underscoring a broader issue than just the devices that are at students' disposal. He argued that emerging technology deserves to play a large role in solving this problem.
"We collide sometimes with our efforts to bring in tools and resources for digital equity with what we are doing in a traditional model in an effort to help kids," Schwartz said.
He said that while technology is often considered an afterthought, he sees technology as the missing piece in a struggling classroom.
Schwartz also pointed to a common gap between emerging technologies and teaching practices, which he characterized as a "very regimented system that's been in place without major change for well over a hundred years." He said when the two meet it's like a collision between an immovable object and an irresistible force, but said progress can be made if teachers are convinced the changes technology bring will help their students.
"Teachers don't change under the threat of punishment — teachers change because they want the best for their kids," Schwartz said.
Local employers also play a big role ensuring students are introduced to new technologies, he said.
"If it takes you 12 to 15 years to get a kid as a product to an employer, get started now, because we need things different from what they're being taught now," Schwartz said.