​IBM deal expands Watson's behind-the-scenes presence in higher education
IBM's newest partnership, with Pearson, signals how cognitive learning is advancing the art and science of learning in the classroom and online.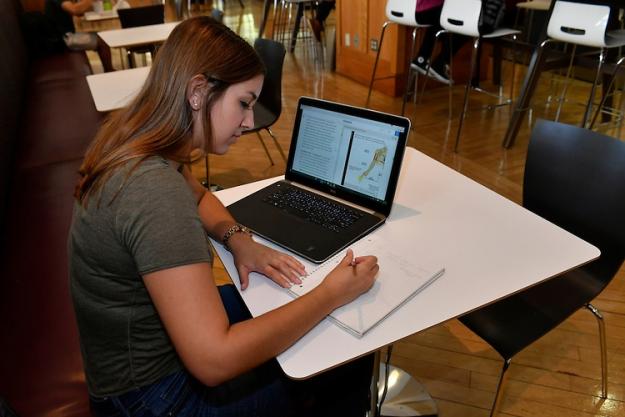 ANAHEIM, Calif. – IBM's new alliance with global education services giant Pearson, announced at EDUCAUSE's annual gathering of higher education IT leaders last week, represents the latest sign of how cognitive learning, and IBM Watson's expanding role behind the scenes, are reshaping the education technology landscape in higher education.
The alliance is the latest by IBM in a bid to harness Watson's cognitive learning capabilities to benefit millions of college students and professors. The announcement follows a separate agreement announced at the end of June between IBM and Blackboard, and the roll out of an IBM Watson-enabled app for Apple earlier this month, among other initiatives.
For Pearson, the alliance represents a chance to combine its global offering of digital learning products with IBM's cognitive learning platform in an effort to give students a more immersive learning experience with their college courses. And it promises to give instructors greater insights about how well students are navigating through their courses.
To accomplish that, Watson will essentially ingest and analyze all of Pearson courseware. But it will also operate as an embedded service within the courseware, learning on a continual basis how students interact with that courseware and provide increasingly appropriate answers to students' questions.
So if a student is experiencing difficulty while studying for a biology course, for example, he or she can query Watson using natural language to ask questions. Based on the student's responses, Watson can provide hints, feedback and explanations and ultimately work with the student at their pace to help them master the topic.
But it will also give instructors real-time insights about how well students are navigating through their course materials. That in turn should help instructors manage their entire courses more effectively and identify students more quickly who are struggling.
"We are changing the way college students learn," said Harriet Green, General Manager, Watson IoT, Cognitive Engagement & Education in a prepared statement.
"The idea of having a built-in resource to help tackle the challenging questions college students get stuck on is amazing. Our goal is for college students to feel empowered, improve study performance and assist educators with breakthrough academic content," she said.
"Digital learning opens up exciting new possibilities to improve access and outcomes in education," said Tim Bozik, president of global product at Pearson. "Our partnership will use the power of Watson to help students stay engaged and deepen their learning, complete their degree and be better equipped for their careers."
Bozik stressed that Watson will also help instructors better understand how well their material, and their students, are performing.
"Teachers are the most important factor in delivering a great education. The partnership will support teachers by providing better digital tools and enabling personalized learning for their students," he said.
Expanding role of cognitive learning
The IBM Watson-Pearson collaboration comes at a time when higher education institutions are grappling with how to help students navigate more successfully through college and better prepare them for what awaits them when they graduate.
While more students than ever before are pursing secondary education, many students are struggling to succeed in college: 40 percent of students in four-year public universities don't complete their courses on time, and many don't complete their studies at all, according to the National Center for Education Statistics.
The ability to provide always-available support for students is seen increasingly as a crucial component on and off campus that could become the difference between a student successfully completing a required course or dropping out, according to Pearson officials. They also see the partnership as a way to boost students' mastery of the learning materials Pearson offers and helping instructors focus on more productive work.
That potential came into clearer view this past spring when a Georgia Institute of Technology computer science professor, Ashok Goel, secretly used IBM's Watson technology to pose as Jill Watson, one of nine teaching assistants supporting his online artificial intelligence course.
His teaching assistants routinely fielded 10,000 questions from 300 students in his course each semester. So Goel used Watson to "learn" the answers to 40,000 questions asked in previous classes, including mundane queries about when assignments were due, according to a recent account in The Chronicle of Higher Education.
The result not only fooled a majority of students, before Goel revealed Jill Watson's true identity, but also demonstrated how artificial intelligence is emerging as a practical reality for educators.
For IBM, the Pearson alliance extends that reality to a sizable global footprint. Pearson currently provides digital content and learning tools to 13 million colleges students per year. But globally, Pearson reaches a total of 75 million students of all ages with a wide range of services including books, software, English language teaching, assessment, qualifications and online learning, according to Pearson officials.
Pearson, meanwhile, has been busy working with other technology players. Last week, it announced a new pilot program with Microsoft, developing virtual training content using Microsoft's HoloLens technology.
Beyond higher education
But the IBM-Pearson deal also reflects IBM management's underlying belief that beyond large-scale opportunities in the healthcare industry, the next most potent playing field for Watson's capabilities is in education, according to Alex Kaplan, global leader for sales and delivery for IBM Watson Education.
And it's not just higher education. IBM has developed interactive tools aimed at empowering educators and improving a student's performance for every phase of education from pre-kindergarten, K-12, higher education and adult and lifelong learning.
Some of those capabilities were on display at EDUCAUSE. IBM Watson Education's Casey Drummond demonstrated two platforms for EdScoop that provide K-12 teachers with an integrated view of students' academic, social and behavioral progress that give teachers better insights to personalize learning exercises for their students.
The Pearson deal, however, also adds another dimension to IBM's agreement with Blackboard, announced in June.
With Blackboard, IBM gains a partner that collects a vast reservoir of education-related data globally through Blackboard's learning management systems. As part of the agreement, IBM will manage much of Blackboard's technology infrastructure, including the company's 28 global data centers and its existing public cloud footprint.
By migrating its applications from Blackboard's data centers to the public cloud, and using Watson's cognitive learning capabilities in the background, Blackboard officials believe the arrangement will "enable Blackboard to more rapidly develop and deliver comprehensive learning, collaboration and communication capabilities to improve the educational experience for teachers, administrators, learners and their families," they said in a statement released in June.
At the same time, Blackboard offerings will become a key part of IBM's larger capabilities and its plans to serve as a broker of education services, according to IBM's Kaplan.
But it's Watson's cognitive ability to learn as it goes – parsing complicated data sets behind the scenes and processing natural language that earned it fame when it won the Jeopardy quiz show in 2011 – that may hold the larger promise for education technology companies like Pearson, Blackboard and others in IBM's sites.