Keeping with a national trend, Arkansas boosts computer science enrollment
The state reports a more than 600 percent increase of high school computer science teachers within the last three years.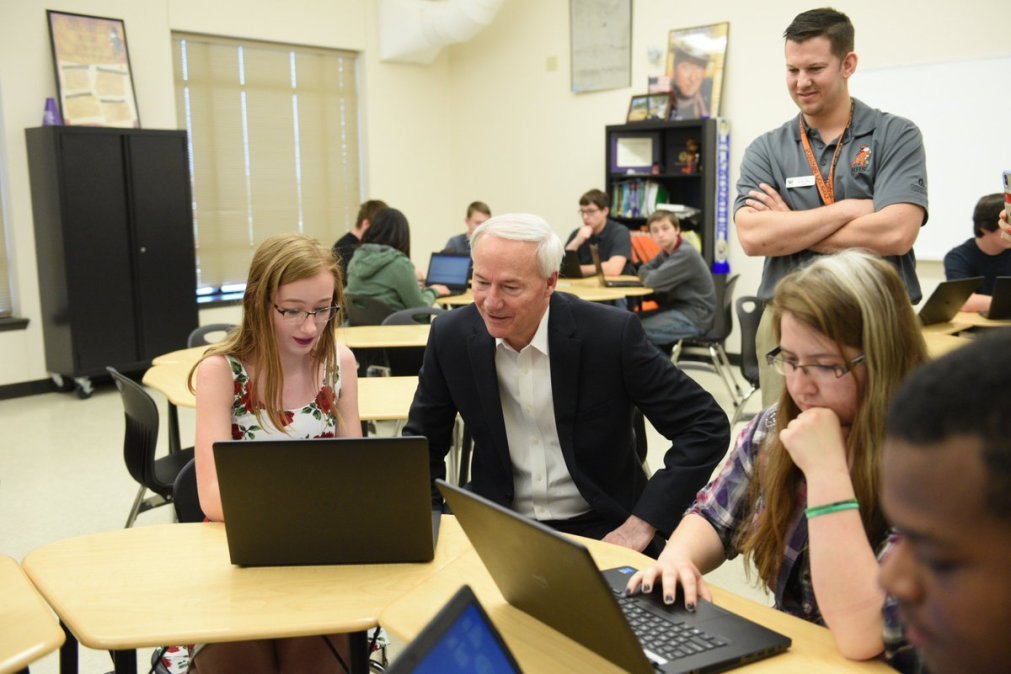 The number of Arkansas high schoolers enrolled in computer science classes has boomed 620 percent since the state implemented its computer science education initiative in 2015.
This year, 8,044 students between 9th and 12th grade enrolled in computer science classes in Arkansas, compared to 1,104 students who enrolled in the 2014-2015 school year, according to a recent announcement from Gov. Hutchinson's office. In the midst of a national surge in computer science education and careers, Arkansas Gov. Asa Hutchinson says his administration has worked to make his state a model for how to keep pace with an evolving economy.
"This dramatic increase in enrollment confirms my confidence that Arkansans would embrace my initiative to promote computer science education," Hutchinson said in a statement last Wednesday. "Since I took office in 2015, the initiative has moved Arkansas to the front of the pack nationally."
The U.S. Bureau of Labor Statistics shows the number of jobs requiring computing skills on an upward slope, and by 2020, there are projected to be 1.4 million jobs related to computer science available and only 400,000 computer science graduates with the skills to apply for those jobs. This urgent need for professionals with computing skills has generated a response from educators and industry professionals who are now trying to prepare students for careers in computer science.
"Strong computer science skills are critical to academic achievement and success beyond high school," Arkansas Department of Education Commissioner Johnny Key said. "ADE is committed to continue our support of the initiative."
In February 2015, Arkansas began requiring all high schools to offer computer science classes starting that September. According to a 2016 report from Google and Gallup, 28 states now require computer science offerings for high school students, while others are adding computer science to core standards. Arkansas remains the only state to make K-12 computer science education mandatory.
Major concerns regarding computer science students include insufficient faculty, limited classroom space, and increased faculty workload due to increasing computer science enrollment, according to a 2017 Computing Research Association study. Arkansas, however, has seen its number of high school computer science teachers grow from just 20 in 2014 to 372 in 2018.
The private sector is lending a hand, too. To address the teacher shortage, Code.org — a website that claims to be used in 250,000 classrooms, 100 districts and 17 states — has invested $26.3 million to build a library of computer science teaching resources. Code.org, the Association for Computing Machinery, the Computer Science Teachers Association and the National Math and Science Initiative have all assembled teams of computer science experts to develop computer science curriculum, standards and resources to help teachers implement high-quality computer science programs in their schools.
The U.S. Department of Education has earmarked a minimum of $200 million for STEM and computer science annually, and recently reached $279 million in discretionary grant funding for 2018.
In Arkansas, STEM challenges may not be resolved, but Gov. Hutchinson says the state is making headway in meeting demand for computer science positions.
"Students understand that a solid foundation in coding will lead to good paying jobs," Hutchinson said. "We are strengthening our workforce, which sharpens our competitive edge in recruiting industry, [and] as we successfully recruit new companies, we retain more of our homegrown talent. … [Arkansas] will remain on the cutting edge of computer science education."