Nearly half of U.S. colleges are using OpenStax textbooks this year
The Rice University-based OER publisher reported that students across 5,160 colleges and universities are saving a combined 77 million on its textbooks.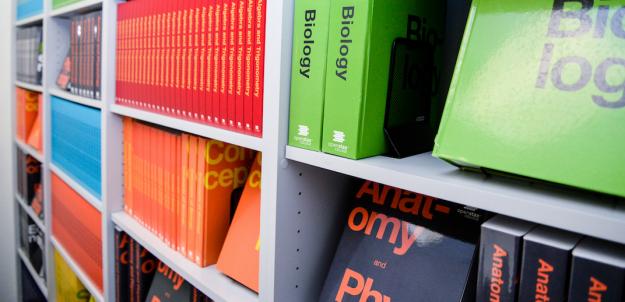 OpenStax, a publisher of open educational resources (OER), reported Wednesday that nearly half of U.S. college and universities are using its free textbooks this year.
The nonprofit, based at Rice University in Houston, said that 2.2 million students across more than 5,160 higher education institutions will save a combined $177 million this year by using OpenStax materials in lieu of commercial textbooks.
Founded in 2012, OpenStax offers peer-reviewed, openly licensed textbooks appropriate for high school and college students. With the recent addition of textbooks on biology and introductory business statistics, it now offers materials for 29 different courses, most of which are concentrated in math and science.
According to a 2017 report , teachers who use OpenStax education materials say they are just as satisfied as those who use commercial textbooks, which, along with the cost savings to students, has prompted many other college instructors to adopt openly licensed materials, either from OpenStax or another OER provider.
"We're excited about the rapidly growing number of instructors making the leap to open textbooks," said OpenStax founder and Rice professor Richard Baraniuk. "Our community is creating a movement that will make a big impact on college affordability. The success of open textbooks like OpenStax have ignited competition in the textbook market, and textbook prices are actually falling for the first time in 50 years."
That's true, according to data analyzed by the National Center for Education Statistics, which is part of the U.S. Department of Education. College students today now have to spend less money to purchase books and other required course materials. As a result, OpenStax has recently reduced the number it estimates student save by switching to OER, from $98 to $79.
"This is exactly what we hoped to see," said Daniel Williamson, managing director at OpenStax. "We're thrilled about this shift because when open materials drive the price of all textbooks lower, it means our books haven't just impacted the students who use them — they're indirectly saving money for every student in the market."
In addition to the 5,160 U.S. institutions using OpenStax, more than 1,150 schools globally are using the open resources, the nonprofit said.