Texas A&M deploys self-swabbing COVID-19 testing kiosks
The university says the appointment-free kiosks will help the university improve its testing strategy and help prevent widespread outbreaks on campus.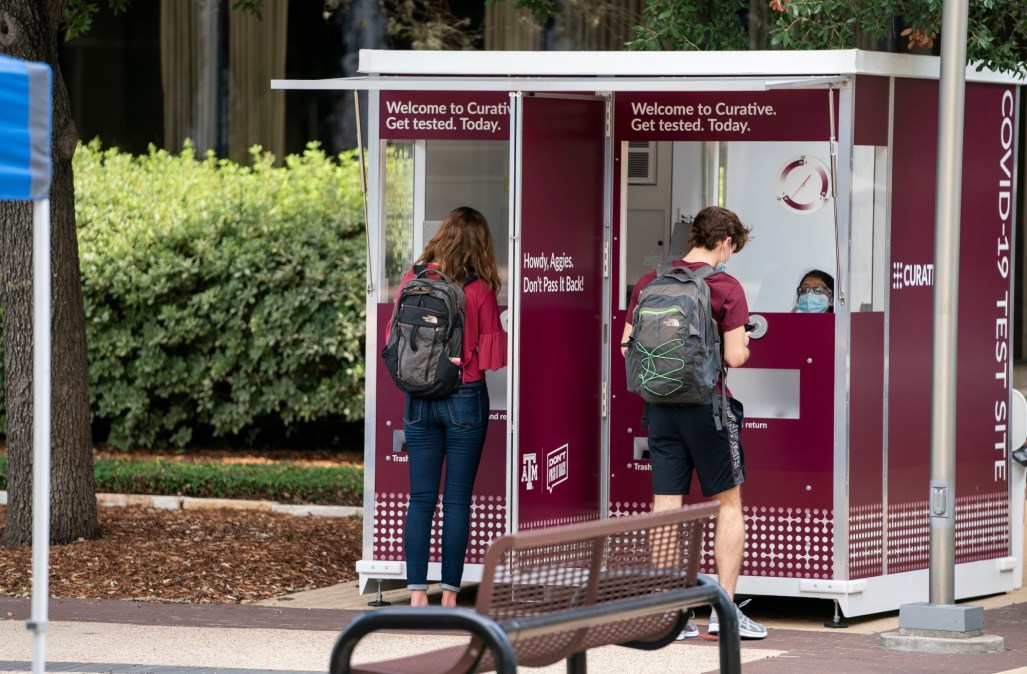 Texas A&M University has set up walk-up coronavirus testing kiosks to increase the accessibility of COVID-19 testing and to improve data collection, which will be used to inform the university's outbreak prevention strategy, the university announced this week.
The three outdoor walk-up testing locations, created by the coronavirus testing company Curative, are to help the university's COVID-19 testing program better identify pre-symptomatic and asymptomatic individuals. The kiosks will be available to Texas A&M's more than 64,000 students and approximately 10,000 faculty and staff currently on campus, as well as non-university affiliated individuals, said Angela Clendenin, an assistant professor in the Department of Epidemiology and Biostatistics.
"If you want to control a pandemic, you really have to have an aggressive testing program, and you need to be able to test everybody," Clendenin told EdScoop.
The new testing booths allow individuals to self-administer oral swab tests without the need to schedule an appointment, she said. Walk-ups will be registered on site, and once an individual has been checked in at the kiosk, an attendant will provide a collection tube and instructions and observe the sample collection. The sample will then be returned to the attendant and test results will be delivered to the individual via email, typically within two days of testing, according to the university.
By not requiring appointments at the kiosks, Texas A&M will be able to increase access to coronavirus testing, Clendenin said, which will allow the university to collect more data to understand better who is sick, where people are getting infected and what the burden of disease is on campus, reducing the spread of COVID-19.
"It's really a good tool to help us stop that cycle of transmission," Clendenin said. "It allows us to see problem areas that may need to be addressed."
And data that is collected from on-campus testing not only helps the university respond to the health crisis, but is also helps the state's pandemic response, she said. Any positive tests get reported to the local health authority to help the broader community stay informed about the spread of the virus, Clendenin said.
"It really helps recognize that total burden of disease," she said, "because students and faculty and staff don't stop at the boundaries of the university. And so having that kind of connection and with the community outside of the university enables you to get a much better picture of what potential risk areas are not just on your campus."
As of Oct. 10, Texas A&M had reported just over 1,500 positive COVID-19 tests out of the nearly 20,000 administered since the beginning of August for a 8.5% infection rate, according to the university's COVID-19 dashboard.