What to watch for at SXSWedu
Join us this week in Austin as we watch for the top movers and shakers in educational technology and digital learning.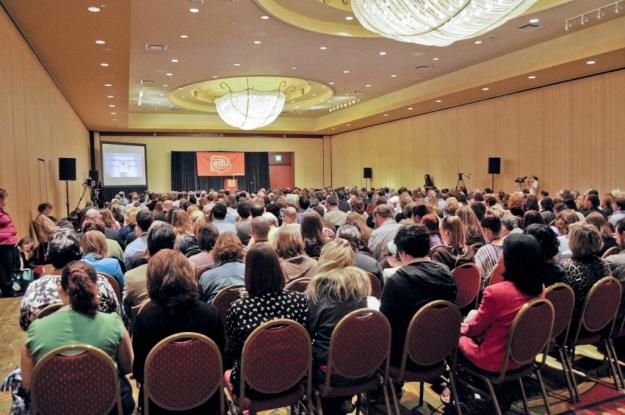 AUSTIN, TEXAS – It's that time of year again when edtech start-ups and entrepreneurs jostle for the spotlight at SXSWedu.
And even though the president and first lady are lending their star power to the main portion of the conference, the education program still has something for everyone.
Below is our list of top speakers, panels and events that will bring together some of the most powerful voices across government and the private sector in education. And see how it compares to last year's roster.
1. Jane McGonigal (Speaker)
With all the buzz around gaming and game-based education, it makes perfect sense that game designer Jane McGonigal will have the floor during a keynote speech Wednesday at 9:30 a.m. She got into the field after suffering a concussion – to cope, she created a multiplayer game called "Superbetter," and opened it up for anyone to get involved. Players set a health or wellness goal, and invite others to play with them and keep them on track. She talks frequently about how the culture around games is transforming, from one primarily about winning to one of solving problems.
2. Ayah Bdeir (Speaker)
Ayah Bdeir, the founder and CEO of littleBits, will be giving a highly anticipated keynote speech on her platform of electronic building blocks that are gaining traction in schools, universities and other areas. Pennsylvania State University last year partnered with the New York-based company for its new makerspace, which opened in the campus' library. Bdeir bills herself as an engineer and interactive artist, and her goal is to make education and innovation more accessible to people around the world. The Lebanon-raised entrepreneur is a co-founder of the Open Hardware Summit, a TED Senior Fellow and an alumna of the MIT Media Lab. She was named one of Inc. Magazine's 35 Under 35. She'll be speaking Tuesday at 9:30 a.m.
Read what other educators and IT leaders shared at SXSWedu — exclusive coverage from EdScoop.
3. Innovation in Higher Education (Panel)
The federal government typically has a presence at big events like SXSWedu, and this year is no different. U.S. Under Secretary of Education Ted Mitchell will speak during a session on "Wisdom of Higher Ed Pioneers in 7 Minutes or Less," where he will outline how the federal government is trying to spur innovation in schools. The topic has been a central one to the Obama administration, from his push to get more schools connected to broadband through his ConnectED program to the new Computer Science for All initiative that was recently unveiled. The session will be hosted by the Bill and Melinda Gates Foundation on Monday at 12:30 p.m.
4. CODE: Debugging the Gender Gap (Film)
This documentary tackles sexism in computer science and STEM fields, and features a host of female powerhouses such as Reshma Saujani, founder of Girls Who Code, and U.S. CTO Megan Smith. The film takes a look at how computer science touches almost every aspect of life, yet women are deeply underrepresented in the field, which is desperate for qualified programmers. From director Robin Hauser Reynolds, who has spoken about increasing diversity in computer programming, the film premiered at last year's Tribeca Film Festival and caught the attention of policymakers and the tech industry. It will be screened Wednesday at 7 p.m.
5. The Payoff of Partnership through Co-Creation (Panel)
Check out the panel I'll be moderating with edtech companies Cerego, VitalSource and Pearson. We'll be discussing how personalized learning platforms and other educational technology products and companies can find the right partners (and look for signs of a partnership that wouldn't work), build meaningful relationships and scale products for a wider audience. See you there!
Reach the reporter at corinne.lestch@edscoop.com and follow her on Twitter @clestch and @edscoop_news.