YouTube teachers share success in 'edutainment'
Teachers 'flip' the classroom to allow students to watch videos to gain a better understanding of the lessons.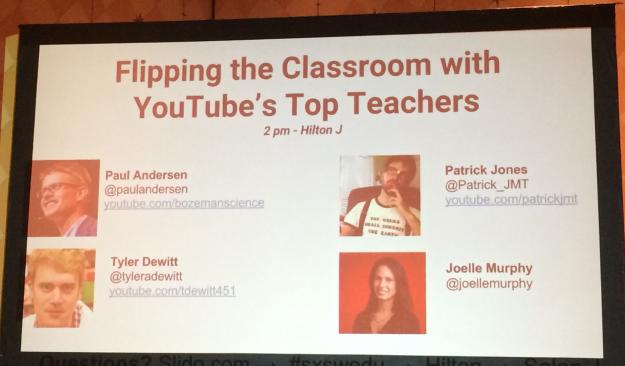 AUSTIN, TEXAS – What makes a great teacher?
It might be someone who is willing to think outside of the box and try new ideas when it comes to engaging students.
Three teachers speaking Tuesday at the SXSWedu conference have done that through "edutainment" – a buzzword heard frequently here – by starting their own YouTube channels and creating videos that students can watch at home or during down time in class.
The idea, according to teachers Paul Andersen, Tyler DeWitt and Patrick Jones, has helped foster livelier discussions in class and break down complicated theories and concepts into digestible bites.
The teachers presented their idea of a flipped classroom, which means students learn at home watching educational videos and then come into class ready for discussions and activities.
Read (and watch) below for some of their insights.
Paul Andersen, science teacher, Bozeman High School in Bozeman, Montana
"The only reason I use videos in class is, I can't spend time with kids in small groups. So I use videos to shift myself in time, so we can spend more time in class doing science," he said.
Andersen started using the flipped model, but then quickly found out that there were issues – some kids did not have access to Internet or computers at home, or they had to work or take care of relatives.
Read what other educators and IT leaders shared at SXSWedu — exclusive coverage from EdScoop.
"Once you require stuff outside of the classroom, kids have varying amounts of technology," he said.
Now he uses them mostly in class, he said.
Patrick Jones, math teacher and tutor, Austin Community College in Austin, Texas
Jones teaches university-level math, and tutors as well. He started making the videos around 2007.
"People loathe textbooks, and I think math textbooks typically are not written as well as they could be," he said.
He started making videos for the students he was tutoring, and "all of a sudden I got emails from people in Alaska" who were also tuning in.
Tyler DeWitt, science teacher, MITES summer program at Massachusetts Institute of Technology in Cambridge, Massachusetts
DeWitt started videotaping himself writing out chemistry concepts and problems on paper for his students because the textbooks used in class "were not written in a way that my students could understand," he said. "So I started making these videos, from a technology standpoint, to target my end users: students."
DeWitt found that more students around the world were watching and sharing them.
"I use videos to multiply myself," he said. "Students can watch at home so they get a lot of content, and that can free up time in class to do more discussion and labs."
Reach the reporter at corinne.lestch@edscoop.com and follow her on Twitter @clestch and @edscoop_news.