Zuckerberg taps former Education Dept. deputy to lead school initiatives
Mark Zuckerberg and Priscilla Chan hired Jim Shelton, former deputy secretary and recent chief impact officer for an online higher education program.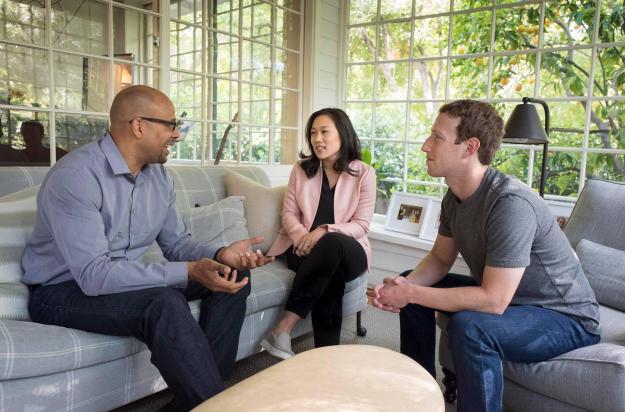 Mark Zuckerberg and Priscilla Chan announced Wednesday that they are hiring a former Education Department veteran, who heads an online master's degree education program, for their growing education enterprises.
The billionaire couple behind Facebook hired Jim Shelton, who was the chief impact officer at 2U Inc., an educational technology company that allows colleges and universities to deliver their programs online, for less than a year. He was previously deputy secretary at the Department of Education for about six years and ran President Barack Obama's "My Brother's Keeper" initiative.
"Jim has already made an impact working in government, business and philanthropy," Zuckerberg wrote in a Facebook post. "He was deputy secretary of the U.S. Department of Education, led education efforts at the Gates Foundation, and most recently was president of a public company focused on education technology."
Shelton wrote in a letter that was published on EdSurge in June 2015 that he had the chance at 2U to help expand access to higher education through technology.
"I had the opportunity to talk to many strong organizations with great leaders, but 2U easily emerged [as] a place and team that I could happily run hard and long with for some time," he wrote then.
Now, Shelton will be joining the Zuckerberg Chan Initiative, which throws an enormous amount of financial weight behind personalized learning programs. (In December 2015, in an open letter to their newborn daughter, the couple announced they would give away 99 percent of their Facebook shares to charities that focus on personalized learning, curing disease, connecting people and building strong communities.)
There was a $15 million investment in AltSchool, a string of "micro-schools" in San Francisco; Palo Alto, California; New York City; and, coming in fall 2017, Chicago. The schools prize personalized learning through customized programs, technology and small student-to-teacher ratios.
Facebook also has a partnership with Summit Public Schools to develop free personalized learning platforms.
"For the last century, our education system has been based around lectures, where every student learns the same thing at the same pace in the same way," Zuckerberg wrote in his post on Wednesday.
"Personalized learning is different," he added. "Teachers and students have many different options for learning each lesson — from working in teams, to playing learning games, to watching videos and talking to mentors. Every student can learn in their own way at their own speed in a way that maximizes their potential."
Reach the reporter at corinne.lestch@edscoop.com and follow her on Twitter @clestch and @edscoop_news.