AI takes center stage as edtech leaders consider 'exponential change'
Technology directors are buzzing about artificial intelligence. A new report from CoSN explains how it could work in K-12.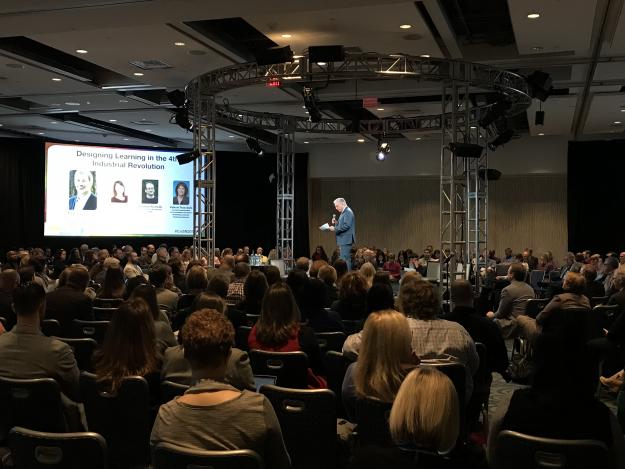 If artificial intelligence wasn't on the minds of school district IT leaders and educational technology professionals when they got to the 2018 Consortium for School Networking's annual conference, it is now. AI has been the subject of many conversations, conference sessions and at least one of the keynotes held during the weeklong festivities in Washington, D.C.
Though some of this can be chalked up to organic interest in a topic that has captured the public's imagination in general, it's also in keeping with the conference theme, "Exponential Change: Designing Learning in the Fourth Industrial Revolution."
"The world is really changing," Keith Krueger, CEO of CoSN, told EdScoop on Tuesday. "The Fourth Industrial Revolution, which the World Economic Forum says we're moving into, is going to be driven in the next 20 years by smart machines and artificial intelligence. What does that mean for the way we do teaching and learning, and what does it mean for the skills students need?"
In addition to posing those questions to conference attendees this week, CoSN also attempts to answer it in a new report, titled "Artificial Intelligence: Could emerging technologies 'humanize' teaching & learning?"
The report describes how AI currently functions in the consumer world and how it could fit into education. Examples of the latter include digital tutors that "micropersonalize learning for every student across the curriculum"; platforms that offer pedagogical support for teachers by carrying out rote tasks like grading tests; and tools for administrators that provide insights about student, classroom and school performance.
"What the new report does is it looks at what the promise is, but even more importantly, it also raises" the necessary questions and concerns about AI in education, Krueger said. "We have to make sure we think about privacy and appropriate use."
District leaders should be careful not to get caught up in the excitement of AI without giving it a close and critical look, Krueger said; they can't simply drop consumer-appropriate AI technologies into the classroom and expect it to work. "One of the things we don't want is the CIO audience to say, 'Wow … AI is here,'" he said. "In education, let's shape it the way it makes sense."
The report offers several examples of how mixed reality, augmented reality and cognitive tutors have already been introduced in K-12 education. It also details a few cases in higher education where AI has been used to enhance products and services, like with Georgia State University's efforts to reduce summer melt with the help of a personalized chatbot.
Additionally, the report offers advice for district leaders as they begin to navigate this growing trend and the controversies surrounding it. The suggestions include being mindful of privacy issues and algorithmic biases, knowing the district's technical capacities, training teachers, making ethical decisions and keeping experts on hand.
The overarching message of the report — and of the conversations happening during the CoSN annual conference — is that in order for AI to have applications in and positive outcomes for K-12 education, the technology decision-makers must approach it thoughtfully and cautiously.
"I think we're at a very, very early stage," Krueger said. "While we see in the consumer market a lot of AI happening, those consumer products aren't necessarily appropriate yet for the school environment. CIOs need to think about what we are trying to solve and how we use this power to personalize learning."