Edtech leaders are responsible for mentoring next generation, says 2020 NextGen award winner
Eden Konja, the IT director at Notre Dame Preparatory School, said he appreciates being named a 2020 NextGen: Emerging EdTech Leader but that his focus is on sharing his knowledge with students.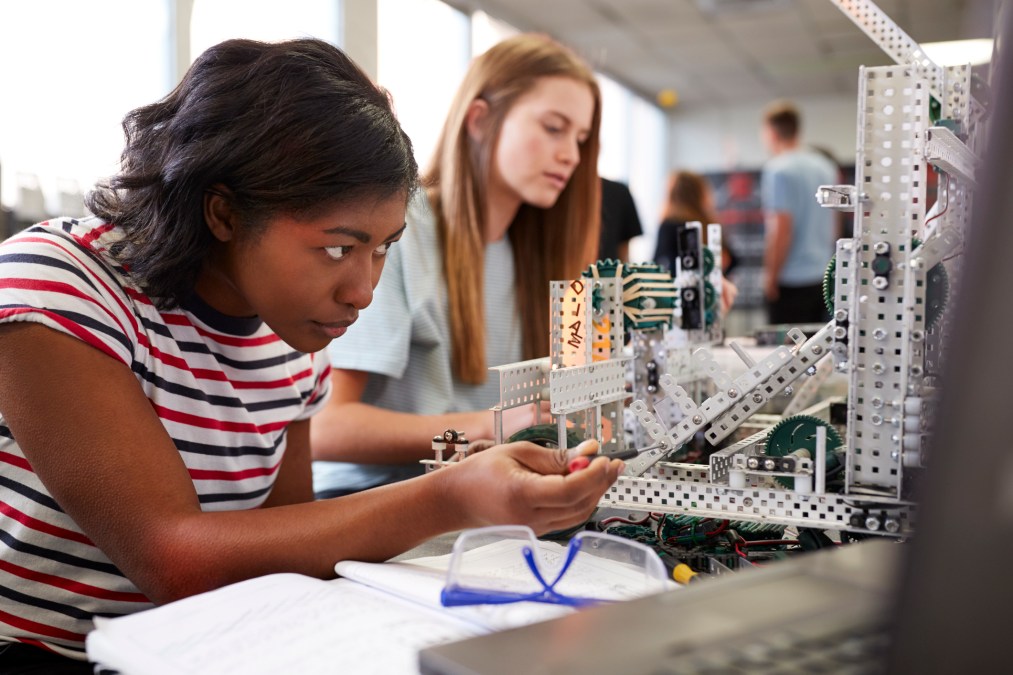 Eden Konja didn't start out in educational technology, but when he found it, everything clicked.
Konja, an information and academic technology director at Notre Dame Preparatory School and Marist Academy in Michigan — and one of EdScoop's 2020 NextGen: Emerging EdTech Leaders — started his professional career in retail management. But he eventually realized his passion wasn't there and began attending Oakland Community College, earning an associate's degree in computer information systems. That was a step, he said, that completely changed his life's trajectory.
"I started taking these classes, and I just got this bug. I just enjoyed it, and consumed as much as I could," Konja said. "I really wanted to learn so much about technology and how it works and all the different career paths I could have taken."
Each new class, he said, opened a door to a potential new career. A few internships, a job, and a bachelor's degree and then a master's degree later, he realized there was a path to bridge all his interests surrounding education and technology.
"I really got into the lifestyle of school itself, and really liked it," Konja said. "When I found the job that I'm at now, it was my first director job, my first real IT leadership role. I just said this is me. This fits me."
Now, five years into his role at Notre Dame Academy, Konja is among this year's cohort of Nextgen: Emerging EdTech Leaders. Konja was recognized by the edtech community, along with four others, who cast thousands of votes as part of the 2020 program.
After working for nearly 15 years as a desktop support specialist at Oakland Community College, a public institution of about 10,000 undergraduate students in Bloomfield Hills, Michigan, and teaching in the information systems department for more than seven of those years, Konja found his role at Notre Dame and Marist Academy through a job posting on LinkedIn. He applied, was hired and started as the school's IT and academic technology director in 2015.
Once he started, he told EdScoop, he hit the ground running and turned what was then a loose team of technology staff into a full-fledged department.
"I went in there, became the leader the school administration and the board wanted to have, and was able to really grasp everything in the K-12 environment," Konja said. "I didn't just want to be the guy behind the desk who went to meetings. I also try to get involved with the students and make sure we help the parents, too."
A window to service
In addition to overseeing the school's back-office technology needs, Konja also worked to make technology services more accessible to students and create opportunities for students to learn more about technology.
When Konja started, students who needed technology assistance had to walk through a foyer with printers and Scantron machines to get to his office. The walk was problematic, Konja said, because of the potential for exam results or other personal student information to be compromised. It just wasn't user-friendly, he said.
"I asked the administration if we could instead build a window from one of our offices facing the hallway," Konja said. "They thought that was a great idea and put that window in place. Now we are able to support students so that they can go right to that window, ring a bell and we can come and support them."
Konja has also started a student help-desk, which is staffed by students who want to help their peers. He's also encouraged some of those students to pursue IT certifications, which they can use after graduation to further their technology careers.
"It all came from administration putting a window to better provide support for our students," Konja said.
Opening career opportunities
Konja also started the school's CyberPatriot program. In 2019, Notre Dame Preparatory School finished first in Michigan, competing against more than 80 Michigan schools.
Konja also started a "Girls Who Code" club and supported the SANS "Girls Go CyberStart" competition at his school to encourage women to consider careers in computer science and engineering.
One of Konja's former students is now pursuing a cybersecurity degree at the University of Detroit-Mercy, he said, and has done internships with the Department of Homeland Security.
"These things are actually leading students to college or career opportunities in cybersecurity," Konja said.
As for being named one of 2020's NextGen: Emerging EdTech Leaders, an awards program hosted by EdScoop and the Consortium for School Networking, he said the recognition is nice, but it also instills him with the sense that he's responsibility for keeping technology efforts in focus for school administrators and communities.
"I'm not doing these things for the thanks," Konja said. "It's my passion. I think for us that have earned this, we have some responsibility in making sure that we bring up the other new people. That's what CoSN is about. We need to share this knowledge and bring it to mentor others to help our industry."