Boston Public Schools get week of immersive STEM classes
Boston STEM Week featured classes around building circuits, extracting DNA and creating an urban garden in what could serve as a model for other cities.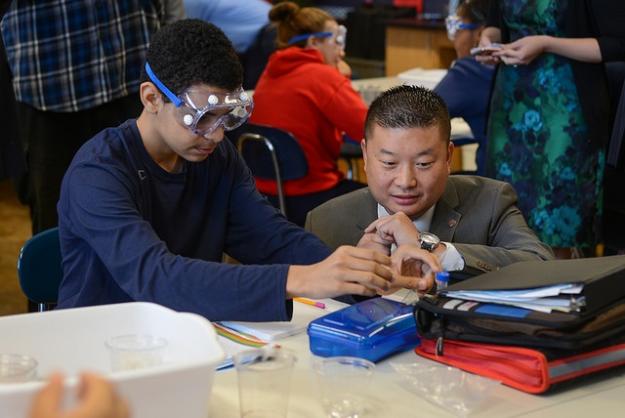 Boston middle school students got a crash course in STEM last week.
As part of Boston STEM Week October 3-7, the Boston Public School system changed its middle school curriculum in all its subjects to focus on science, technology, engineering and math. And it wasn't just students who benefitted.
Teachers received professional development from experts at Massachusetts Institute of Technology as part of the enhanced focus on STEM content.
Middle school students, meanwhile, got a taste of six classes developed by MIT – from "Building a Friendly Monster," to "Creating an Urban Garden," to "Learning Surgical Techniques."
The week-long immersion program was free to about 6,500 Boston Public School students at 36 middle schools, and is expected to expand to other grades in the coming years.
Superintendent Tommy Chang said he watched the students' engagement soar as they built circuits and extracted DNA as part of the five-day program.
"Adults came into the room, and [the students] could really care less," Chang said in an interview with EdScoop. "They were so entirely focused on the work. It was very inspirational, and also really important that the teachers were inspired as well."
Chang said teachers received three days of intensive training the week prior. Educators got assistance from employees of Vertex Pharmaceuticals, a biotech company, which helped teachers prepare for their week, getting materials ready and practicing different experiments that they would show the kids.
"The students are practicing what scientists, engineers, innovators and entrepreneurs have to do, which is design, solve problems and be change agents," he said.
Chang is trying to have more of the schools reflect the work that the students did for the week.
There is a high school redesign underway focused around career and technical education involving one of Boston's premier schools, the Dearborn STEM Academy, which opened about three years ago.
"We're in the middle of building a new building for that school, focused completely around STEM careers," Chang said.
He added that one of the goals of Boston STEM Week is to expand it to other cities. The superintendent of Newark Public Schools in New Jersey, Christopher Cerf, attended part of the programming in Boston to get a better sense of how it worked.
"Our goal is to continue expanding this sort of work longterm and figure out our game plan," Chang said.
"I think it's really exciting that these STEM Weeks are being looked at by other cities as well. We're hoping to spark this sort of work in other places. It's not just about us, it's also about the rest of the country," he said.