Can new EdTech tools combat economic despair?
Commentary: Personalized online learning platforms can potentially expand student engagement and even help prevent kids from dropping out of school.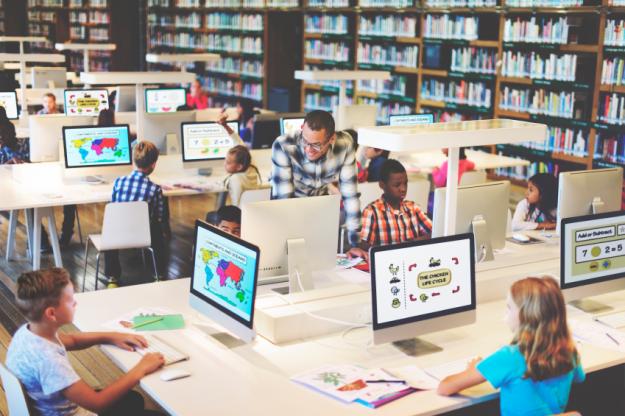 In a recent Brookings paper on social mobility, Melissa Kearney and Phillip Levine illuminate an intangible, yet severe, consequence of income inequality: economic despair. In cities or states with wide disparity between the low- and middle-income brackets, high school students, particularly boys, appear more likely to drop out of school.
One clear public policy solution to this phenomenon would involve bringing more jobs to areas with higher rates of income inequality. Another obvious solution would be to decrease the perceived distance between outcomes for the rich and poor through more mixed income neighborhoods and schools.
But many high schools can't wait for major economic or demographic shifts to arrive in high-poverty neighborhoods. In the meantime, what might schools dealing with the effects of high rates of income inequality do to combat troubling rates of "economic despair" among their students?
Age-old constraints on investing meaningfully in students' social capital are giving way to new models that use the power of technology to increase scale and reach. For students in high-poverty schools and communities, new technologies, like online-mentoring platforms, present critical opportunities for them to form relationships with adults and grow their social and professional networks, no matter their zip code.
For example, CareerVillage, an online platform where students engage with professionals and educators for career and college advice, aims to provide students with personalized, real-time guidance that can help them make informed decisions about their future. In this Q&A setting, curated responses effectively help reduce the lack of information or misinformation students may absorb that cause them to feel stuck.
And Educurious, a project-based curriculum organization, links industry experts and students via an online interface. With a mission to engage students in "learning that connects the classroom and the real world," the organization offers project-based courses in which experts work with students through video chat to solve simulated, real-world problems together.
Educurious has also taken these experiences face to face, through a partnership with the mayor of Seattle's youth employment initiative, which matches young people with local employers seeking skilled workers. The initiative creates a marketplace for employers to hire young people and scaffolds in additional training and supports for youth to build skills and prepare for interacting in professional environments.
Efforts like these not only expand students' access to new advice or experiences — but to relationships themselves. Expanding students' networks is not a cure-all to boosting social mobility — students likewise need the skills and dispositions to propel them into the knowledge economy.
But as one social capital scholar, Ronald Burt, aptly put it, the two are directly related and mutually reinforcing when it comes to social mobility: "Social capital predicts that returns to intelligence, education, and seniority depend in some part on a person's location in the social structure of a market or hierarchy. While human capital refers to individual ability, social capital refers to opportunity."
If we want to tackle chronic barriers to social mobility, particularly in areas with the highest levels of income inequality, investing in students' social capital or connecting, and human capital or learning, must go hand in hand.
This column was reposted with permission from the Clayton Christensen Institute. Read the original version here.
Julia Freeland Fisher is the director of education research at the Clayton Christensen Institute. She leads a team that educates policymakers and community leaders on the power of disruptive innovation in K-12 and higher education.