Contest offers prizes to educators for sharing practices in classrooms
Credentialing program aims to reward educators for sharing daily practices that help students to develop deeper learning skills.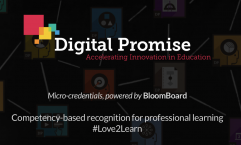 A micro-credentialing service for educators is raising the stakes for teachers to document their efforts to promote deeper learning in classrooms.
Educators can team up to enter the Deeper Learning Micro-credential Challenge and compete for prizes up to $10,000, simply by logging how they help students to develop deeper learning skills in class and reflecting on what the teachers learned from the process.
"We really want to use it as an opportunity to engage educators in deeper learning, to capture really compelling stories about people's learning and implementations in the classroom," said Jennifer Kabaker, director of educator micro-credentials at Digital Promise, which is a non-profit aiming to improve learning and teaching through technology and the organizer of the challenge.
Digital Promise launched the micro-credentialing platform last November, with Bloomboard, a company for teacher development. Currently, the platform provides about 125 micro-credentials. Deeper learning is the largest module with 40 options, including skills in design thinking, leadership and communication. The platform has drawn tens of thousands of visits since it was launched November.
"We've been really excited by the amount of traffic that the platform has gotten," Kabaker said in an interview with EdScoop. "At this point, we want to start addressing getting educators to start earning the micro-credentials, and the challenge will be a big part of that."
The competition is between teams with two or more educators from various grade levels, subject matters and locations. Each team needs to list all the micro-credentials that team members has earned, and compose an impact reflection discussing their goals to attend the challenge. They must also report on what they learned from the process and what else they expect from the micro-credentialing platform.
Participants have until May 1 to apply for the micro-credentials that educators want to include in the challenge. The application window for the challenge program closes on May 15.
To earn micro-credentials in deeper learning, instructors must demonstrate how they help students to develop skills in "collaborative problem solving," "resolving conflicts" and "analyzing media impacts," for example.
The micro-credentials program focuses on how an educator can demonstrate they're learning in their practices, Kabaker said. "It's sort of like a performance activity after the educator has learned something."
A panel of 10 experts from school systems and non-profits will score each submission based on the average number of points that team members have earned in micro-credentials, and on the quality of their reflections on the program, based on a rubric.
Teams with highest scores will be awarded a range of prizes up to $10,000. Digital Promise will also recognize the team with most micro-credentials with a prize of $5,000. The results will be released on June 15.
Reach the reporter at yizhu.wang@edscoop.com and follow her on Twitter @yizhuevy and @edscoop_news.