Pandemic's disruption gave universities time to regroup on tech
Despite technical and accessibility challenges, many educational technology leaders said the coronavirus pandemic afforded them a chance to rethink models that've needed refreshing for decades.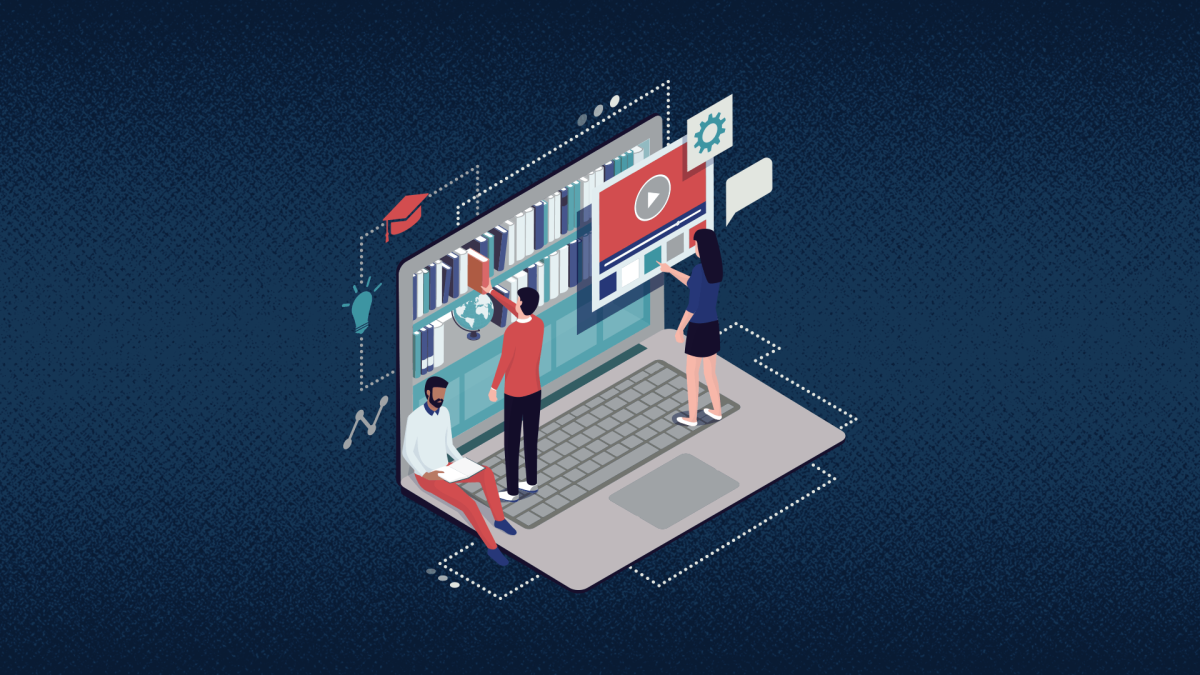 The widespread disruption of COVID-19 drove rapid technology adoption in higher education as colleges and universities rushed classes and resources online — and often implemented short-term solutions — so students could continue their educations. But long-term, technology leaders said the pandemic will accelerate transformation of higher education, with institutions adopting new, more flexible models of learning to better align education with students' needs.
"In a lot of ways, we see [COVID-19] as an accelerator that's forced institutions to enact, very quickly, a lot of changes," Richard Price, a research fellow at the Clayton Christensen Institute, told EdScoop. "For years, we've seen online learning grow … but it was slow to grow. It's something that most institutions were dabbling with, but they weren't really investing in a very deliberate way. Then all of a sudden when no one can go to campus for months on end, the only solution is to go online."
In March, when colleges began closing their campuses and moving classes online in response to the pandemic, many institutions adopted new technology or scaled up their use of existing digital resources, like video conferencing tools, messaging platforms and online learning management systems, to ensure students could complete their coursework and continue learning for the remainder of the semester.
And this new dependency on remote learning forced institutions to implement changes faster than ever, with colleges like Davidson College near Charlotte, North Carolina, moving the majority of its classes and services online within a matter of weeks. The new paradigm also allowed institutions to overcome challenges of online learning faster than they previously thought possible.
"College and university administration, we can sort of tend to have this culture of blaming individuals for unwillingness to change … and this just sort of pointed out to me that it's not an unwillingness, but it's a lack of relevance," said Kevin Davis, Davidson College's chief information officer.
But once online learning became a necessity, education leaders said faculty began to understand the importance of using technology to support their courses and worked quickly to implement the necessary changes to support students during the health crisis.
Changes. Coming soon.
As colleges now look forward to the fall semester, institutions are taking the summer months to improve the systems and learning tools they have put in place.
The short-term solutions installed by universities and colleges allowed students to finish out the remainder of their work for the spring semester, but to ensure remote learning delivers to students the skills and knowledge they need to be successful in the workforce, institutions are taking a critical eye to their new online environments, reviewing pedagogy, education resources and student services — and making changes where necessary.
"[Summer recess] really then gives us an opportunity to not just give faculty the kind of the tools that they need for a remote teaching, but to really start putting in place things that let them be a lot more effective," said Scott Midkiff, CIO of Virginia Tech. "I think we have some opportunities to kind of improve the quality of our teaching and the quality of our learning if we go into this for a longer period of time."
At Brown University, educators are focusing on improving class engagement while students remain off campus and continue distance learning into the fall semester. Catherine Zabriskie, Brown's director of academic technology services, said the university is arming faculty with data on how students access their courses and work through the material to ensure they're actually learning and engaging with their education.
At other universities, services like degree advising and mental health counseling are also being transformed to be more accessible to students while they live at home. Bucknell University, for example, is training faculty to better identify students who may be struggling with mental health issues while students and teachers remain socially distant.
The homework gap widens
Amid all these efforts, internet accessibility remains a big challenge for university students who are distance learning.
Some universities have implemented short-term solutions to get students connected to their online classes, such as Pittsburgh Technical College, which has set up internet hot spots for students, ensuring students have access to high speed internet to access their coursework from home. But many students aren't getting that kind of help.
"This pandemic and the kind of the rush to virtual learning has exposed the fact that there are still many students who do not have easy access to high speed internet in their homes," said Lisa Guernsey, director of teaching, learning and technology at the think tank New America.
In recognizing how essential internet access has become during the pandemic for students — and with more than 7 million families still without home internet access in the U.S. — both educators and lawmakers across the country have advocated for federal funding to build better broadband networks and improve access to the internet and education.
According to the educational technology advocacy group Funds For Learning, it would cost $5.25 billion to connect those currently without internet to high-speed broadband essential for online education. And although educators are hopeful funding will eventually come, higher education institutions still lack the financial support they need to address this issue.
Transformation beyond the pandemic
But even after the pandemic no longer threatens the health and safety of universities, many of their new technologies are expected to have a lasting impact.
"The integration of the technology in the classroom, the leveraging of the tools we're using now heavily for teaching and learning, I think that you'll see that adoption expand further and it will really improve the quality [of education]," said Link Alander, CIO of Lone Star College in Houston, Texas. "That's going to be a positive outcome on this."
But the switch to widespread distance learning has not proven that online classes can replicate or replace the in-person college experience for students, he said.
"Students do want to be face-to-face," Alander said. "There's a social interaction part that's a huge part of college life."
But Price, the Clayton fellow, said the pandemic has helped education by breaking down barriers around institutions' willingness to implement new technology and shown many colleges and universities the added value that technology can bring to education for students.
"There are things you can do online that you simply can't do in the physical classroom and so they each have unique strengths and weaknesses," Price said. "It'll be a matter of leveraging technologies while we have to be online and finding the technologies that do things better online. It's a matter of rethinking how you teach and how students learn."
The continued implementation of technology and online learning will also allow colleges and universities to better meet students' need for in-demand workforce skills, he said.
"The institutions we are seeing thrive in this [pandemic] … are schools that have business models that permitted more flexibility and they permitted a higher degree of online learning," Price said.
Other education methods, meanwhile, like competency based education, credential programs and reskiling programs, could allow higher education institutions to educate students in more personalized ways, reach a broader audience of learners and increase the value of postsecondary education.
"I believe that the vast majority of institutions out there are very well intentioned and they want to serve students as best they can," Price said. "And they're recognizing that that means something different now than it did just 10, 20 years ago."
Some university leaders, including William Showers, CIO of Pittsburgh Technical College in Oakdale, Pennsylvania, said this period afforded an opportunity to reevaluate their education models and implement technologies that will ultimately allow them to better serve students, adding a silver lining to the disruption the pandemic has caused.
"It's pushed us into making efficiency improvements … going out and exploring new tools, new ways to teach," Showers said. "I could not imagine it going back."
This story is part of Digital Government: The Next Decade: A StateScoop & EdScoop Special Report.