Creative ways universities are recruiting women into technology
NCWIT's Angela Galik shares how schools are involving parents and reframing narratives to disrupt stereotypes around women in technology.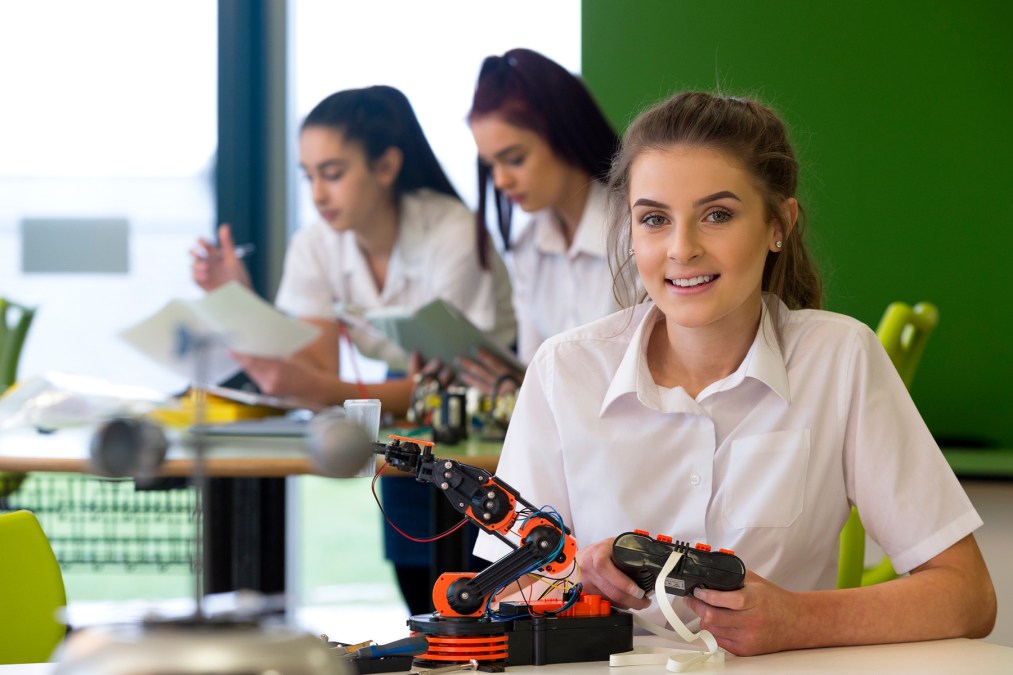 By the time most individuals choose a major in college, they have had ample time to ponder the question, "What do you want to be when you grow up?" But too often, answers to that question are constrained by gender stereotypes. Current research on career choice shows that a sense of "fit" is a key consideration, and that an individual's impression of whether they belong in a work environment strongly influences their decision about pursuing that path. In an effort to counteract stereotypes about computing departments as male-dominated spaces, several NCWIT Extension Services Transformation (NEXT) Award recipients are using college recruitment materials to help women envision themselves succeeding in a computing program.
The Indiana University School of Informatics, Computing, and Engineering, or SICE, a 2015 NCWIT NEXT Award 2nd Place recipient, partnered with its Office of Creative Services to conduct focus groups with female students and learn more about the stereotypes and awareness gaps that discourage them from pursuing tech careers. SICE then used the data to create a new informational brochure called "Own Your Awesome," which was then mailed to every incoming female student.
The brochure used specific words and phrases to challenge gender stereotypes about the computer science major and welcome newcomers to the field, such as "no previous experience required," "technology's a part of every job," "the places you'll go," and "we transform hobbies, talents, and interests into awesome careers."
And having learned from survey data that parents often play a big role in an incoming student's process of choosing a major, the school also made an effort to engage parents in conversations about future careers in computing by appending "… and Family" to the address on the envelope. The first year these brochures were used, the participating departments saw a huge jump in the number of women who signed up for an introductory computing class. And, the positive impact wasn't limited to Indiana University alone.
Dr. Maureen Biggers, director of the IU Center of Excellence for Women in Technology, said, "We presented our results at a national meeting, and the UC Santa Cruz computer science department adapted the brochure the next year and experienced the same result!"
The Computer Science Department at The University of Texas at El Paso, a 2015 NCWIT NEXT Award Honorable Mention recipient, also saw the need for marketing materials that could help women see themselves thriving in technical majors. Department heads created the "I AM" campaign to attract female students to computer science classes by emphasizing the creativity and problem-solving aspects of programming.
As part of this multimedia campaign, department representatives made an "I AM" banner that is displayed at all outreach events. They created "I AM" button stickers with positive attributes to help prospective students identify themselves with the computing field, and they invited alumni from the department to create and upload short "I AM" videos explaining how their college experiences prepared them for a tech career that they love.
Since its introduction, the "I AM" campaign has continued to be successful, said Dr. Ann Gates, chair of the UTEP Computer Science Department.
"We promote it during freshman orientation." Gates explained. "Students pick the one sticker that best describes who they are: problem solver, creator, coder, techie, innovator, analyst, or designer. It's a great way to get them engaged and talking about what it means to be a computer scientist."
Because today's high school students spend a lot of time researching colleges online, sometimes these efforts start even earlier. When the Donald Bren School of Information and Computer Sciences, or ICS, at the University of California, Irvine — a 2016 NCWIT NEXT Award Grand Prize Recipient — wanted to refresh its marketing to reach more women, it started with the ICS website. School leaders redesigned individual pages to be more user-friendly and engaging, encouraging prospective students to spend time on the site and get to know the school.
"As we aim to increase the representation of women enrolled in computing majors, we have been intentional in promoting the diverse environment we already have in ICS," explained Dr. Sharnnia Artis, ICS assistant dean of access and inclusion. "Our marketing tools have been a great resource to showcase our women, as well as our initiatives focusing on gender diversity."
In addition to improvements to the user experience, the website update included new content to demonstrate the school's commitment to supporting female students. The new site shared information about the school's diversity initiatives and showcased faculty, corporate partners, and community volunteers who were involved with efforts to promote inclusion. It also featured more pictures and videos showing women at work in the classroom, in the lab, and in outreach activities, and highlighted the school's Women in Information and Computer Sciences (WICS) group.
Each of these schools and departments came up with their own creative ways to combat gender stereotypes and help women imagine themselves fitting into a computing major or a tech career. NCWIT is inspired by these recruitment campaigns, and is excited to see their impressive results! Will your college be NEXT?
Angela Galik is an editorial consultant at NCWIT. She received her PhD in American Studies from the University of Minnesota, then taught college writing and literature for over a decade. Now a freelance writer, editor, performing artist and creativity coach, Angela works with individuals and organizations to help them find their voice, clarify their message, communicate effectively, and create change. When she's not poring over style manuals and sharpening her red pencil, you can find her composing and recording music or wandering along a forest trail somewhere in the Rocky Mountains.
NCWIT aims to increase the meaningful participation of all women in computing. The nonprofit convenes, equips, and unites change-leading organizations in achieving goals focused on both internal culture change and outreach to underrepresented groups — from K-12 to post-secondary and workforce programs.
NCWIT Extension Services for Undergraduate Programs (ES-UP) helps computing departments utilize high-impact strategies for recruiting and retaining more women students that are research-based and customized to local needs and conditions. The NCWIT Extension Services Transformation (NEXT) Award honors ES-UP clients who have the most significant impact on the long-term goal of increasing the number of women in information technology and other computing-related fields.