Student success is at the heart of Educause's top IT issues for 2020
The organization released its newest list of top IT issues at its annual conference in Chicago this week, all of them pointing toward student success.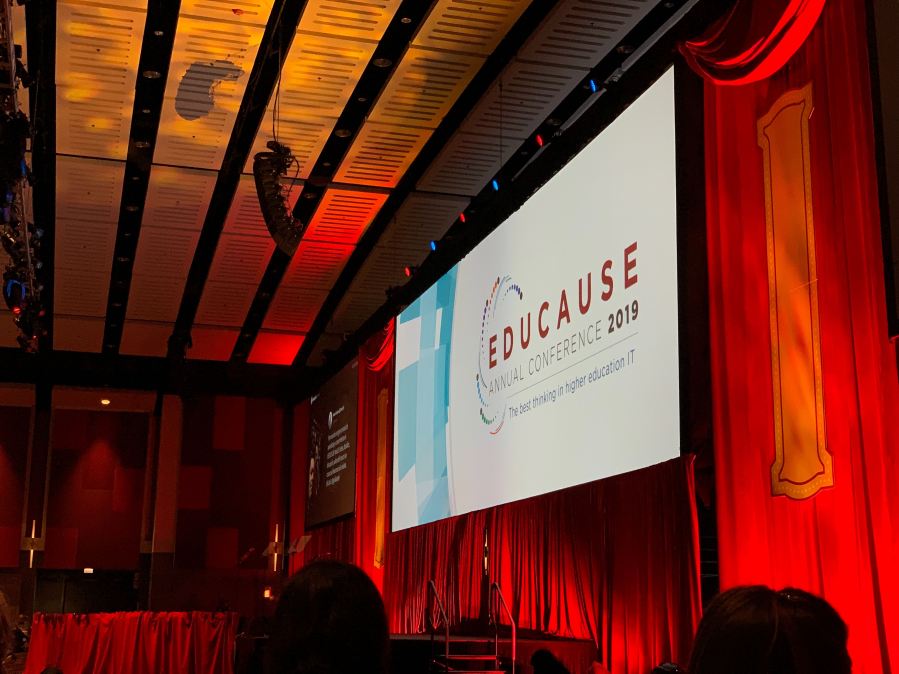 Going into 2020, the push for institutions to support all students on their path to success underpins many of the top IT priorities for higher education leaders, according to new survey findings released this week by Educause.
"The focus of the student experience is very, very important and it's reflective of a larger trend in higher education," Susan Grajek, Educause vice president for communities and research, told EdScoop. "We are starting to recognize it's not just students' job to be successful, it's the institutions job to help make them successful."
And information technology is a strategic part of that goal. The objective for higher education institutions going forward is to serve more and new learners though personalization, Grajek told audience members at Educause's annual conference in Chicago on Tuesday. This position is reflected in several of the organization's IT priorities for the coming year, including creating student-centric higher education, improving student retention and making higher education more affordable.
"The only way we do that is by focusing on the students and listening to them, hearing what they have to say, what they need and being responsive to that," Grajek said.
Sustain, simplify, innovate
This year's priorities were organized under three main themes: simplify, sustain and innovate.
"How can we find the bandwidth to innovate when the current systems and processes are so complex and convoluted?" Grajek asked. "How do we give a good experience to end users, students, when they've got to use those convoluted systems and processes?"
The theme "simplify" centers on the difficulty of navigating clunky, inefficient legacy systems and processes. According to the survey, top goals of institutional leaders over the next three to five years are to make institutional services as easy to use as consumer apps and to simplify processes students use to find the resources like mental health counseling or job placement services.
The "sustain" theme includes the priorities of security, privacy, sustainable funding and affordability. Security are particularly hot issues. From 2018 to 2020, the percentage of institutions that have implemented security analytics technology rose from 11 percent to 39 percent.
"We see data as a new currency for the institution, so we have to develop a sustainable strategy for both our currencies — data and financial — that sustain," Grajek said.
"Innovation," as the third category, focuses around student retention and completion, student-centric education and improved enrollment.
Grajek said that instead of reworking their existing products, universities and colleges should start building entirely new products from the ground up.
"Institutions need to move from doing things differently to doing different things," Grajek said.
According to the survey, IT leaders say they're hopeful that institutions will begin to see how many of their credentials need to be redesigned to better meet the needs of students.
Integrative CIO
Grajek said that CIOs need to become "strategic members" of their institutions. And although better integrating the role of the CIO into senior leadership was the last priority on the list, Kellie Campbell, chief technology officer at Vermont Technical College, suggested that such integration could enable the other nine priorities.
Those with "a seat at the table" are able to make an impact and convey the importance of IT to an institution, Campbell said. Conversely, IT leaders who aren't brought to the table to be a part of strategic conversations won't be able to move other goals forward, she said.
Some issues from last year's list — such as the integrative CIO, privacy, sustainable funding, digital integration and affordability — make the list again this year, though at different positions. Information security strategy, meanwhile, has remained as the No. 1 issue, followed by privacy, and sustainable funding, which jumped from No. 7 last year to No. 3 in 2020.
Campbell, who was a member of the "Top IT Issues" advisory panel for the first time this year, said she used to be frustrated by the similarity of the list year to year, but realizes that it's for a good reason.
"They keep coming up because they are really important," she said.
EDUCAUSE's top 10 IT issues in higher education for 2020:
Information security strategy: developing a risk-based security strategy that effectively detects, responds to, and prevents security threats and challenges.
Privacy: safeguarding institutional constituents' privacy rights and maintaining accountability for protecting all types of restricted data.
Sustainable funding: developing funding models that can maintain quality and accommodate both new needs and the growing use of IT services in an era of increasing budget constraints.
Digital integrations: ensuring system interoperability, scalability, and extensibility, as well as data integrity, security, standards, and governance, across multiple applications and platforms.
Student retention and completion: developing the capabilities and systems to incorporate artificial intelligence into student services to provide personalized, timely support.
Student-centric higher education: creating a student-services ecosystem to support the entire student life cycle, from prospecting to enrollment, learning, job placement, alumni engagement, and continuing education.
Improved enrollment: using technology, data, and analytics to develop an inclusive and financially sustainable enrollment strategy to serve more and new learners by personalizing recruitment, enrollment, and learning experiences.
Higher education affordability: aligning IT organizations' priorities, and resources with institutional priorities and resources to achieve a sustainable future.
Administrative simplification: applying user-centered design, process improvement, and system reengineering to reduce redundant or unnecessary efforts and improve enduser experiences.
The integrative CIO: repositioning or reinforcing the role of IT leadership as an integral strategic partner of institutional leadership in supporting institutional missions.