EngageNY curriculum gets high scores for early grades
A report from the Thomas B. Fordham Institute found that New York's Common Core-aligned curriculum is not as cohesive as it reaches middle and high school grades.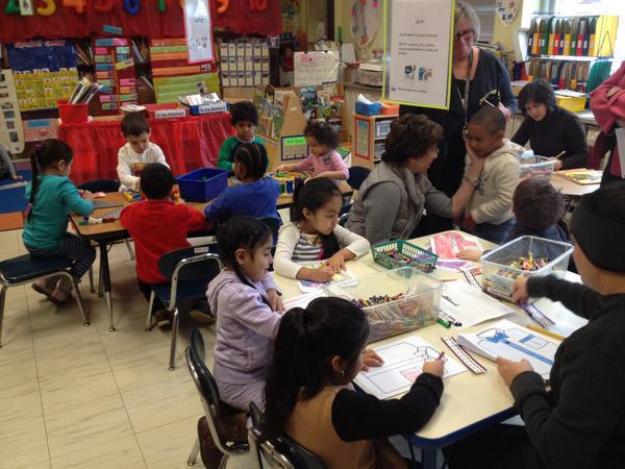 The online curriculum launched by New York officials in 2011 to engage students in early grades is succeeding, but misses the mark once students reach middle and high school, according to a new report released Wednesday.
EngageNY is the first comprehensive, downloadable curriculum aligned to the rigorous Common Core standards, according to authors of the report, from conservative education think tank Thomas B. Fordham Institute. It provides a host of English and math learning modules that were developed after the state won $700 million in federal Race to the Top funds in 2010.
"One of the most impressive things is the materials are very well aligned to the standards in terms of content and rigor," said Kathleen Porter-Magee, an author of the report and superintendent of Partnership Catholic schools in Harlem and the Bronx. "They really, for the most part, stay true to the shift in Common Core."
But that remains true mostly for the elementary school grades, according to the report — the curriculum is not as cohesive as it delves into more complex material for middle and high school grades.
Since the curriculum was created by multiple vendors for each grade, "each set of materials reflects a distinctive underlying approach to curriculum and literacy, meaning the progression across grade bands is bumpy," the report states.
The EngageNY materials include units of study, daily lesson plans, sample tasks and questions for students, homework ideas, quizzes and assessments. The curriculum, which is optional to teach, is controversial because some see it as a government intrusion in the textbook market while some teachers see it as a mandate from the state.
The high school curriculum is still incomplete, and Porter-Magee said students don't get the advantage of reading whole novels since EngageNY includes just snippets and excerpts of books and reading material.
"If I was a middle or high school literature teacher, I would want to make sure I'm incorporating some novel study into my instruction," said Porter-Magee, who said Partnership teachers use the math curriculum more frequently than the English one.
She added that teachers — including those at Partnership schools — often use the curriculum as a supplement, not as a full-year course study.
But perhaps in a twist of irony, more districts in states other than New York have been downloading the curriculum – a quirk that federal education officials boast about in a blog post. A state Education Department spokesman said officials don't track how many districts outside of New York have downloaded the materials, but as of August 2014, EngageNY had the most visitors from California, Louisiana, Illinois, Washington and Arizona.
They do not have to pay for the curricula, but they are asked to properly attribute the materials, the spokesman added.
As of April 19, English materials were downloaded 6.7 million times, and math materials had 13.4 million downloads.
Teachers say the modules are appealing because they can be adapted and used in different ways, and some who express more skepticism say teachers feel that using a Common Core-aligned program gives them more cover if test results come back low.
A school district in Kansas adopted the math curriculum last year under close watch by teachers, math coaches and a community member, according to the Garden City Telegram. They agreed to adopt the curriculum with modifications for another year for math in kindergarten through 9th grade.