TenMarks to shut down operations after 2018-19 school year
Teachers expressed dismay after the Amazon Education company announced plans to "wind down" its personalized math and writing solutions.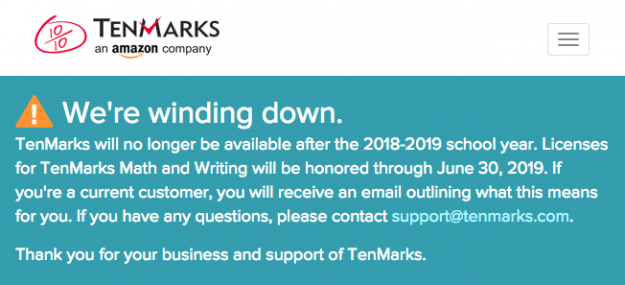 TenMarks, an Amazon Education company, announced over the weekend that it plans to shut down its math and writing resources. Much to the dismay of teachers who use the company's adaptive and personalized learning solutions, it was no April Fool's joke.
"We're winding down," says a bold notice on the TenMarks website, next to a yellow exclamation point. An Amazon spokesperson reached by EdScoop did not say what prompted the decision or when it was made.
Offerings from TenMarks will no longer be available after the 2018-19 school year, according to the message, and licenses for TenMarks Math and TenMarks Writing will expire after June 30, 2019. Meanwhile, the company's social media accounts will be closed by June 30 of this year.
The news came as a surprise to K-12 educators who use the program for online, personalized instruction. Teachers responded on Twitter with pleas for Amazon to reverse course, with disappointment about the news and with suggestions for salvaging parts of TenMarks resources.
"Such a great resource! Nothing else has allowed me to differentiate to meet the needs of my students," tweeted Karen Bowman, a fourth and fifth grade teacher in Springfield, Missouri. "Don't go!"
Jessie Binkley, a 5th grade math teacher at Cheatham Middle School in Tennessee, weighed in on Twitter as well, saying, "Why?! TenMarks has been a life saver this year!"
Glen Warren, the director of district literacies, outreach and libraries at Encinitas Union School District in California, suggested making the company's educational material open.
"There is such a large body of work connected with TenMarks, to just close it down is such academic loss," he tweeted. "How about making a grand gesture and make it all open source?"
In an email to EdScoop, the Amazon spokesperson said only that "after a thorough review of TenMarks, we've made the difficult decision to no longer offer this service after June 30, 2019."
Amazon acquired TenMarks in 2013 as one of its early efforts to move into education and compete with the likes of Apple, Google and Microsoft. At the time, TenMarks claimed to have reached 7,000 school districts nationwide.
As recently as last summer, Amazon Education was still introducing new tools for TenMarks. The August debut of TenMarks Writing, a service that uses natural language processing technology to offer personalized feedback about students' writing, sought to build off the success of its counterpart in math. It's unclear what went downhill between August 2017 and April 2018 — and why it was enough to necessitate a complete shutdown of the educational services.
With TenMarks on its way out, Amazon's education offerings have dwindled materially. However, Amazon Inspire, a free library for open educational resources, and AWS Educate, an initiative to teach students cloud literacy and skills, remain among the company's signature efforts to reach students and teachers.