Popular gamification platform goes mobile
Kahoot releases app designed to make homework fun for students.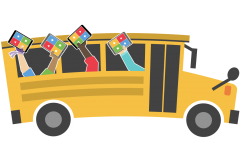 The makers of Kahoot have released a mobile version of the game-based learning platform that they say will encourage K-12 students to continue their studies outside of the classroom.
The new mobile app, designed for Apple iOS and Android devices, is intended to make homework fun, Kahoot officials said. The mobile version of the popular platform launched Thursday.
"Teachers and students love playing Kahoot and don't want to stop when the bell rings," said Erik Harrell, CEO of Kahoot, a Norwegian company. Harrell said that the company is launching the app after receiving "overwhelmingly positive" responses from teachers and students who beta-tested it in June.
Kahoot lets students and teachers create their own quizzes and educational games, called kahoots. The company claims to have about 50 million monthly active users, more than half of whom are K-12 teachers and students in the U.S.
According to company officials, the new mobile version will empower teachers to challenge students to play a kahoot at home or on the go at a time when students are spending an increasing amount of time on their mobile devices.
In a recent survey conducted by Kahoot of 580 U.S teachers, nearly a quarter of those polled said they would use kahoots more often if they could be assigned as homework.
One beta tester of the mobile app predicted that teachers are "going to love having the ability" to assign kahoots as homework. "This will encourage students to review educational material and take learning outside the classroom walls, all in a fun and engaging way," said Matthew Castilleja, an instructional technology specialist at the Round Rock Independent School District in Texas. "I can see teachers and students using Kahoot a lot more by being able to play Kahoot and learn on the go."
Teachers can send homework via their computer or the mobile app to students either by sharing an email link, using Google Classroom or other messengers, or by sharing a unique game PIN assigned to the challenge. By accepting challenges, learners can get back in the game at any time.
The home screen gives users an overview of challenges in progress and previous games played, a list of featured kahoots, and the ability to search for kahoots from a library of more than 20 million publicly available games.
Players using mobile devices also can join regular classroom-hosted games by entering a game PIN in the app.