Blackboard announces new mobile app for instructors
Blackboard Instructor is specially designed to meet the needs of educators on the go.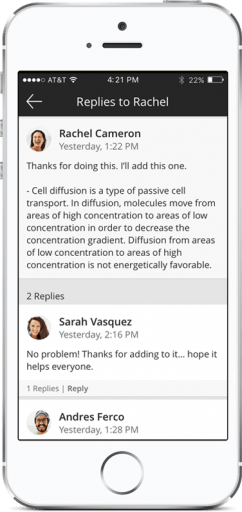 Blackboard, an education technology company best known for a popular learning management system, has introduced a new mobile app designed specially for teachers, professors and educators.
Announced this week, Blackboard Instructor offers features and functions that the company's standard mobile app, which is primarily geared toward students, does not.
Teachers can use the app to access course content, initiate discussion-board conversations and send time-sensitive announcements — like class cancellations or snow days — said Brook Bock, vice president of student success and head of mobile solutions at Blackboard.
"The real value here is the student can go in [to the standard Blackboard app] and do the things a student does … and the Instructor app can really focus on the needs of the instructor, which are different from the student," Bock told EdScoop.
Blackboard Instructor is not designed to replicate the native website, Bock said. Instead, it offers only the most critical functions so educators can easily engage with students from their smartphones.
"Everything is easy to use," said Dan Loury, senior product manager at Blackboard, in an interview. "If they're commuting on the bus or at a car wash, all they need to do is tap the app and they're directly on the courses."
In recent weeks, instructors at different institutions were testing the beta version of the app, including Andres Lopez, a distance learning program assistant at El Paso Community College in El Paso, Texas.
Lopez, whose institution uses Blackboard as its learning management system, independently decided to sign up for the beta. He's been using the app for the last three weeks and has found it to be "really smooth" and user-friendly.
"It gives you the ability to manage your courses a lot easier," Lopez said of Blackboard Instructor. "For me, the most important part is the engagement — it allows you to stay in touch with students on the go."
Lopez was teaching a summer course during the first few weeks he tested the beta, so he was able to explore the app's capabilities — from posting announcements to participating in discussion board threads.
"The overall reaction [from the beta] was overwhelmingly positive," Loury said. "They liked how it looked, how it worked, how it felt."
The app is already available to the general public — including over a million instructors who actively use Blackboard — but Loury said many new features will be added to the app in the coming months. The most notable among them, he said, is grading capabilities.