FCC's Rosenworcel presses 'homework gap' problem, offers solutions
Jessica Rosenworcel spoke Thursday about the roles of the FCC, private companies and communities in closing the homework gap.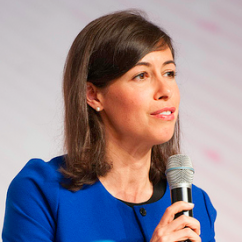 While delivering her first public policy remarks since returning to the Federal Communications Commission (FCC) in August, Commissioner Jessica Rosenworcel on Thursday emphasized the "magnitude of the problem" she calls the "homework gap" and suggested several solutions for closing it.
In her address to the U.S. Conference of Catholic Bishops, Rosenworcel, a Democrat, applauded the school broadband connections that have been established through the FCC's E-rate program, but noted that student learning is suffering outside the classroom.
She described a growing connectivity disparity for students at school versus at home. As many as 7 in 10 teachers today assign homework online, she said, but the FCC estimates 1 in 3 households do not subscribe to broadband service — thus, the homework gap.
"There is evidence all around us that the homework gap is real," Rosenworcel said, adding that the Senate Joint Economic Committee estimates 12 million children in the United States live in homes without a broadband connection.
Rosenworcel recalled students in Alabama "hunkering down" in fast food restaurants and students in Michigan sitting in parking lots trying to connect to a free network so they could complete their homework.
"These students are inspiring. They've got grit in spades," she said. "They are cobbling together whatever connectivity they can find to simply get their homework done. But, it shouldn't be this hard."
There are plenty of ways the FCC and local organizations — including schools, private companies and entire communities — can pitch in to support students in need of connectivity, Rosenworcel said.
For starters, the FCC must study its current practices and create spaces where students can complete schoolwork, she said. The FCC should also take steps to provide wireless routers for school buses and equip libraries with hotspots.
But, given the scope of the problem, Rosenworcel pressed the need for assistance from the private sector as well, suggesting that companies consider offering discounted computers for homes with school-aged children.
Local organizations could also contribute to this effort by creating "safe spaces" for homework, said Rosenworcel. She cited communities — including Athens, Georgia, and Topeka, Kansas — that flash colorful decals on buildings where safe spaces are located and have developed directories and maps that identify these spaces for students.
"Now imagine those decals multiplying around a town, and imagine the statement that makes to students. Every one of those decals says your schoolwork matters and your community supports you," Rosenworcel said to the audience. "I hope you will consider the role you can play bridging the homework gap, because I think it is the cruelest part of our new digital divide. But I think it is also within our power to fix it — and make a real difference."