How should teachers manage smartphone distractions in the classroom?
Commentary: edWeb.net's Eileen Belastock reviews research showing students with smartphones receive one notification every eight minutes and pay less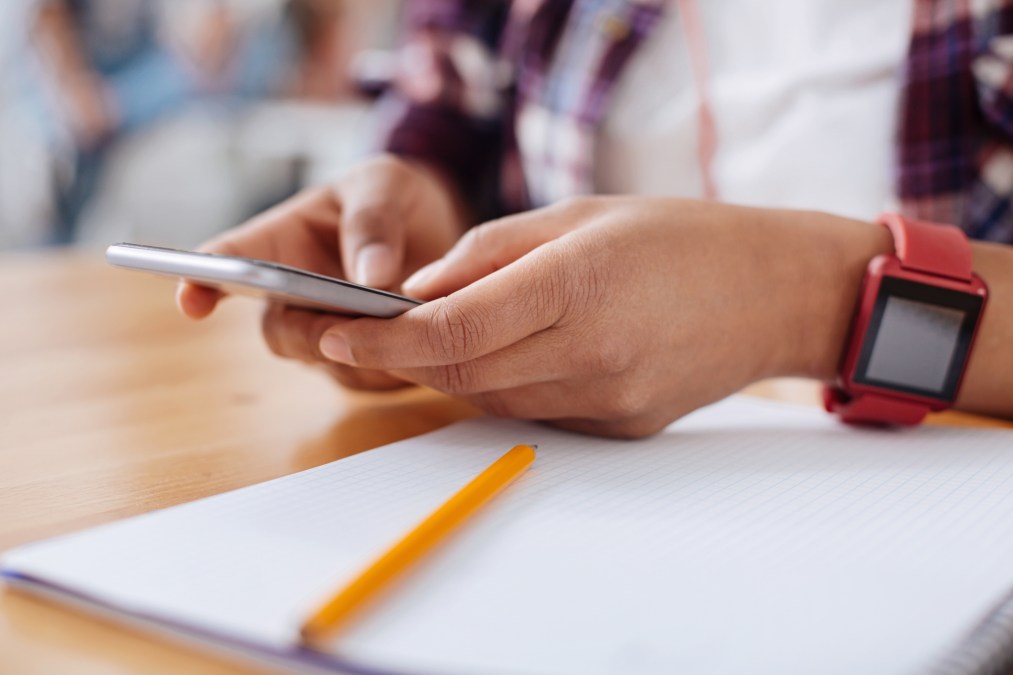 Whether it's iPads and smartphones or assistive tools, digital technology has become an integral element in our students' educational journeys. Despite the value these tools bring in providing immediate feedback, augmenting student assessments and bolstering relationships, many teachers are not adequately addressing the distractions these devices can also bring.
In a recent webinar hosted by edWeb.net, Shannon Holden, principal of Pierce City High School in Missouri, answers the questions "How are we monitoring cellphones in our classrooms?" and "Aren't devices supposed to help?"
How often are Americans really checking their phones?
There's a study showing Americans check their phones every 12 minutes. Holden and students in his district set out to discover whether this research could be applied to students and to what extent their devices are disrupting learning in the classroom.
Sixth-grade students collected phone usage data and recorded every time a student received a push notification. Twenty students participated in the study, logging 7,800 notifications, an average of one notification per student every eight minutes.
The results reinforced a 2013 study finding students not using cellphones wrote an average of 62 percent more in their notes, wrote more detailed notes, recalled more detailed information and scored one-and-a-half letter-grades higher on assessments. Students with digital devices engage in more off-task behavior, have more concentration and focus issues and have a higher incidence of physical and mental health issues.
What are districts doing around the world about smartphone distractions?
School districts across the world are taking a wide range of approaches to the student cell phone problems in schools, Holden said, though bans of digital devices are on the decline in schools. Ninety-one percent of public schools banned digital devices in 2010, compared to 66 percent in 2016, according to the National Center for Education Statistics.
In France and Ontario, though, cellphones are being banned in schools altogether, while states such as California and Utah have proposed similar legislation.
Students are often getting around cellphone restrictions or bans by carefully hiding their use through cordless earbuds, smart watches, Bluetooth speakers, or long hair paired with a hoodie. They are also using positional strategies such as putting their head in their hands, rummaging through their backpacks and using the restroom break as an opportunity to text.
In an attempt to curb or discontinue cell phone use in classrooms, some school districts and teachers are enforcing consequences for students who violate school cellphone policies. Some of these repercussions, while in theory are beneficial, can have broader implications. Cell phone confiscation or cell phone jamming devices can have legal ramifications, while options such as magnetic cell pouches for student devices can be costly.
How do we monitor cellphone use and keep students off their phones without taking them away?
Holden recommends teachers implement inexpensive techniques such as calculator caddies, shoe organizers or freezer bags. Students turn off or put their cell phones into airplane mode, place them in these organizers and retrieve them at the end of class. Students can also be required to keep their phones in their backpacks or under their desks.
Other techniques that teach students self-regulation skills include placing their phones on their desks and if they check their phones, having the teacher ask the question "Do you think this is the best time to check your phone?"
A "tech break" technique developed by Kliff Kingsbury, the new head coach of Arizona Cardinals, can work for both students and adults. By giving players a 10-minute tech break every hour to check their phones, Kingsbury discovered that the break is cutting down on distractions and is reducing his players' anxiety.
No matter which technique teachers use, Holden says that the ultimate goal is the education of our students on positive usage of cellphones. However, he cautions that while these strategies and techniques are useful for getting phone use under control, they can conflict with building or district policies. It is imperative for teachers to check with the administration before implementing any of these techniques.
About the presenter
Shannon Holden, principal at Pierce City High School in Pierce City, Missouri, is the TechTools for the Classroom and Teacher HELP! edWebinar and community host. Shannon served as an assistant principal for 20 years in Texas and Missouri, has taught high school history and math, and was an online instructor at the university level. Shannon presents frequently to teachers and administrators about classroom management, maintaining positive relationships with parents, instructional strategies that engage students, and implementing technology in the classroom.
Join the community
Teacher HELP! is a free professional learning community on edWeb.net that helps teachers get advice, support, and share experiences about teaching.
This edWeb webinar referenced above, hosted by edWeb.net, can be found here.