'Ignite My Future in School' asks students and teachers to reimagine STEM education
The program, started about a year ago by Discovery Education, teaches kids about building drones and other STEM-related activities.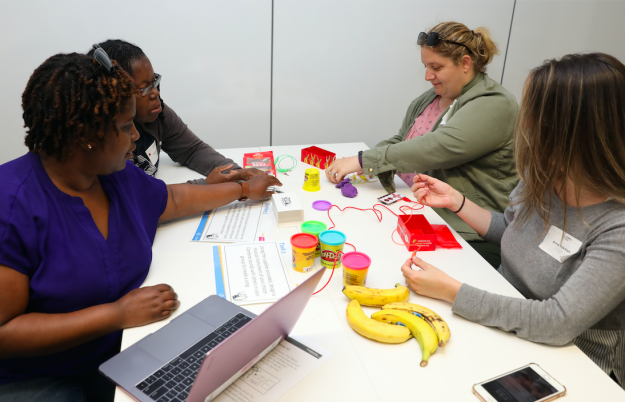 Dacia Jones has traveled all over the country to help train about a dozen teachers to incorporate STEM learning in their curricula as part of a program called Ignite My Future in School . Now, a year into the program, she has seen teachers turn into " learning leaders " and kids build drones, code their own music and build tiny houses.
"There's not a huge disconnect between what the curriculum looks like and what STEM is — it's just that teachers need more professional development to connect these skills to the real world," Jones said in an interview with EdScoop.
Ignite My Future in School, started in 2017 by Discovery Education and Tata Consultancy Services, exposes middle school teachers to professional development around science, technology, engineering and math. It started with about 12 coaches who trained educators in four pilot markets: Dallas; Janesville, Wisconsin; Harrisburg, Pennsylvania; and the Washington, D.C., metro area.
In the span of a year, the program has grown to reach 3,300 teachers and 185,000 students in more cities and states across the U.S. through both in-person trainings and online tutorials.
The expansion has led edtech leaders to believe that "computational thinking" is not just a buzz phrase — it's here to stay.
Bill Goodwyn , CEO of Discovery Education, called TCS "a truly innovative and purpose-driven company" and said it supports Discovery's mission of preparing students with skills needed for success after graduation. "Together, we are developing and delivering to educators dynamic digital resources that support the growth of critical computational thinking skills," Goodwyn said.
Jones, a former district science director in Durham, North Carolina, has traveled to 60 schools. She recently helped middle school students in Santa Rosa, Florida, participate in a lesson called " Drone Delivery ." The students were challenged to design drone prototypes that would deliver pizza to their neighborhoods.
The program connected the students with staff at Pizza Hut and Domino's to find out the measurements and weight of pizza boxes. It also contacted helicopter pilots from local naval bases to talk about Federal Aviation Administration regulations around drones.
"These are very real-world connections," Jones said. "The students collected data, analyzed patterns and deconstructed the routes that drones would take."
Another assignment focuses on how different colors can affect emotions and reactions. At a middle school in Nashville, 7th-graders researched color schemes and learned how interior designers use abstraction to decide which colors to paint hospitals, restaurants and office buildings. Another lesson asks students to envision what an " emoji essay " would look like, translating a short academic paper into emoji-speak that a foreign reader might understand.
"These lessons are launching students and teachers into a whole new world," said Jones. "It allows them to think for themselves."
She added that she has been able to get educators on board with the content additions and professional training, both of which are free, because she is not asking them to change their entire way of teaching.
"What we're trying to tell them is not anything new, it's to enhance," she said. "A lot of teachers feel exhausted and have so much on their plate, so it's telling them to take what they're already doing and look at it through a new lens."
Reach the reporter at corinne.lestch@edscoop.com and follow her on Twitter @clestch and @edscoop_news .