Microsoft announces grant program for 'mixed reality' headset technology
The Limitless Libraries Fund, which was announced at ISTE 2018, will be open to public, middle and high school libraries.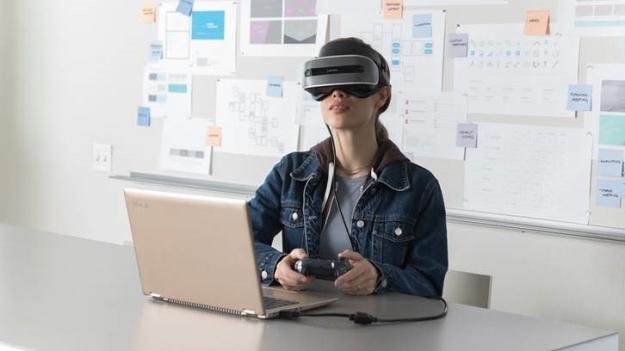 Microsoft will soon offer grants to U.S. libraries interested in adopting "mixed reality" technology, the company announced Monday at the International Society for Technology in Education's (ISTE) annual conference in Chicago.
Officially called the "Limitless Libraries Fund," the program will offer a bevy of resources to public, middle and high school libraries that successfully apply. Microsoft officials said the digital technology behind the mixed-reality headsets has the potential to "transform" learning efficiency, retention and student engagement.
Libraries with STEM programs that serve a high percentage of underserved youth will be given priority in the program, and each grant recipient will receive at least two Windows Mixed Reality headsets and tandem computers, as well as technical training and assistance and access to other grantees.
"We increasingly understand that not every school or library can necessarily afford this kind of technology today, so we started thinking about how we can make this more accessible," Dan Ayoub, Microsoft's general manager of education, told EdScoop.
Ayoub said that the plan is to distribute the technology to 20 libraries across the country in this first iteration of the program, with recipients announced by the end of the summer.
The company also wants to ensure that each library selected receives adequate training and support in learning how to use the headsets effectively.
"What we didn't want to do was just box up the hardware and start sending it out [to libraries]," Ayoub said. "That seems to me to be a flawed approach, because professional development for these librarians is a really important part of the program. It doesn't do us any good if we send this out and it's just sitting in boxes because [librarians] are like 'Oh, god, how do we get started?'"
Ayoub said Microsoft intends to work closely with the librarians to see what is and isn't working with the mixed-reality gear, which blends both augmented reality (AR) and virtual reality (VR) experiences.
Microsoft cited "the expansion of digital technology" in grade schools — specifically in students using mixed-reality headsets — as the reason for launching the program. Virtual and augmented reality tools are increasingly popular in K-12 classrooms as well as in higher ed , but security and health risks surrounding the burgeoning technology have left many still from trying it out, including parents.
The grant application period for libraries runs through July 9. Criteria include a geographically diverse location, a mix between staff fluent and non-fluent in mixed-reality tech and far-reaching educational programming, among other items.