Students to show off inventions at final White House Science Fair
The students who were selected to present their projects in front of President Obama include a 9th grader from Florida, and two friends from Long Island.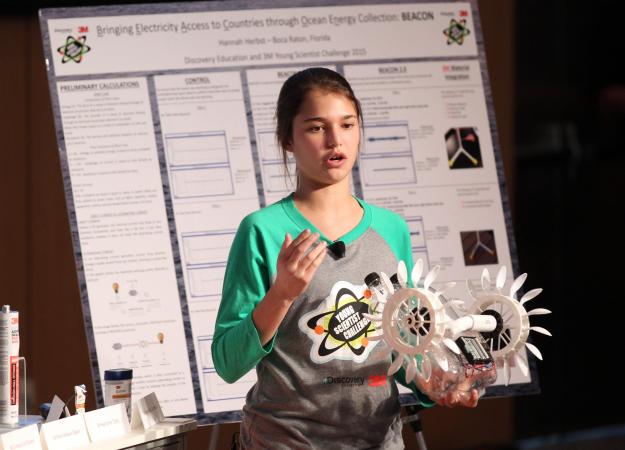 Hannah Herbst has never been to Washington, D.C., but on Wednesday, she will be presenting an invention close to her heart at the White House.
The 15-year-old is one of more than 40 students from around the country who have been selected to show off their innovations to President Obama and a string of other luminaries in STEM fields for the sixth and final White House Science Fair.
"I'm so excited, because these are the people that we look up on the internet and watch on TV," Herbst said in an interview with EdScoop. "And the other exhibitors are brilliant and their products are amazing."
Herbst, a ninth-grader at Florida Atlantic University High School, a special dual-enrollment school that allows her to earn college credits while she's still in secondary school, built an ocean energy probe that is powered by a generator from ocean currents, and can bring electricity to developing countries.
She was inspired to build her prototype after corresponding with a pen pal in Ethiopia, whom she met through her church.
"She lives in energy poverty, and she has no access to basic resources like sewage control or lights or medical supplies – stuff that I take for granted all the time," Herbst said of her pen pal. "But she's never seen a light light up before, so I knew I had to do something to lift her from that situation."
Joining Herbst, who won the Discovery Education 3M Young Scientists Challenge, are Kimberly Te and Christine Yoo, team prize winners of the 2015 Siemens Competition in Math, Science and Technology.
The two 17-year-old students, from Manhasset Secondary School in Long Island, worked with microbial fuel cells to generate electricity while also removing pollution.
"We were inspired by the BP oil spill – there was a significant portion that sank to ocean floor, and the way to clean it up is not as easy as cleaning the surface," said Te. "We wanted to look at a non-invasive way to clean up the oil by using microbial fuel cells. There's also a global energy crisis, so want to make energy more accessible and help power developing countries."
"The fact that we're even going to the White House is awesome," added Yoo, who said she started crying when they found out the news. "I'm freaking out already."
Reach the reporter at corinne.lestch@edscoop.com and follow her on Twitter @clestch and @edscoop_news.