Obama praises students' STEM projects at White House Science Fair
More than 130 students across the country brought their inventions and ideas to the White House today for the 6th annual science fair.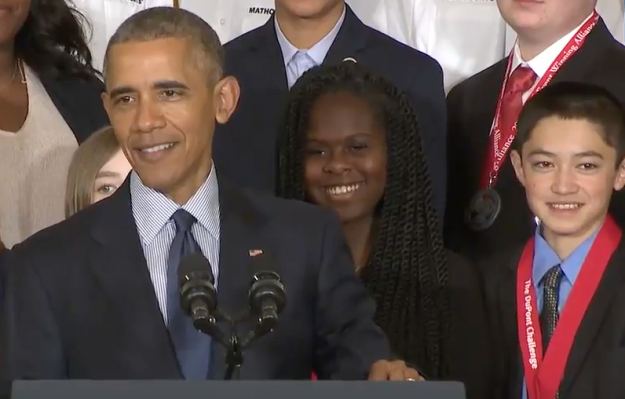 President Barack Obama greeted dozens of engineering-minded students who brought their inventions to White House today, demonstrating how projects like a robot designed to clean New York City subways showed the promise of STEM education in America.
The 100-pound robot, designed by Amro Halwah, 18, Stephen Mwingria, 17 and Si Ya Ni, 18, can move along subway system rails and vacuum up debris. The students are among about 130 students from 30 states who were invited to the 6th annual White House Science Fair to showcase their inventions or researches in the domain of science, technology, engineering and mathematics.
Inventions of the participating students, ranging from 8 to 20 years old, include solar powered cars, cell phone security techniques and 3D printed toys. EdScoop talked to three of the exhibitors about their projects, including an ocean energy probe and a solution to generate electricity while cleaning up the ocean with microbial fuel cells.
"All of you are showing the rest of us that it's never too early in life to make a difference," Obama said to the students in the event on Wednesday. "You remind us that together, through science, we can tackle some of the biggest challenges that we face."
Obama reiterated his call earlier this year on the importance of promoting computer science education for all students, and he reminded education organizations to keep an eye on a new guidance of the Department of Education on how to use existing federal funds to advance STEM and computer science education in pre-K-12.
"We're building on our efforts to bring hands-on computer science learning to all students," Obama said. "We've got more than 500 schools that are committing to expand access to computer science."
Obama encouraged states to take action, and recognized Rhode Island which announced last month that the state will bring computer science to every school within two years.
He also noted that more young women were involved in the science fairs over the past five years as a promising sign of improving diversity in the STEM field.
"Our diversity is a strength and we've got to leverage all of our talents," Obama said.
"We're not going to succeed if we get half of the team on the bench, especially when it is the smarter half of the team," he added.
Diversity of STEM education was also discussed in a roundtable panel in afternoon. Valarie Jarrett, senior advisor to the president and the chairwomen of the White House Council on Women and Girls, talked with alumni of the science fairs, especially women, about their experiences in pursuing science.
"Only 37 percent of the STEM graduates from college are women," Jarrett said. "For careers in STEM, only 20 percent are women. So you see we have a long way to go."
Reach the reporter at yizhu.wang@edscoop.com and follow her on Twitter @yizhuevy.