White House official: Investing in computer science education will pay off
Matt Lira, from the Office of American Innovation, said teaching students computer science now will eventually "do amazing things in the economy."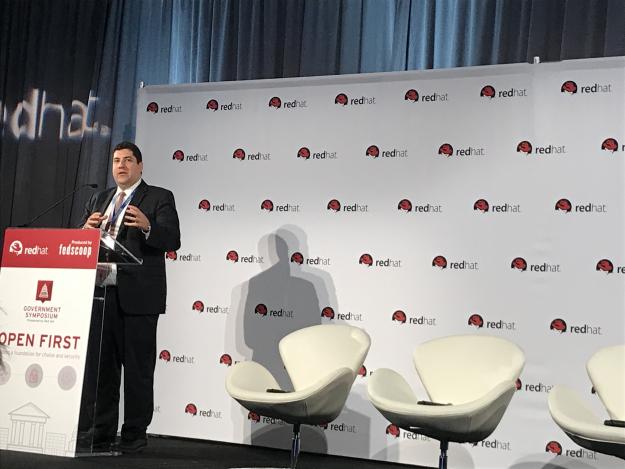 Computer science education in K-12 and at the college level will propel today's students into careers that allow them to "do amazing things in the economy," Matt Lira said to an audience of government and industry technology experts Thursday.
Lira, special assistant for Innovation Policy and Initiatives at the White House's Office of American Innovation, highlighted the Trump administration's recent STEM announcement, which instructs the U.S. Department of Education to direct at least $200 million annually to computer science education. Lira said it's the "largest direct federal investment in computer science education in a long time."
In signing the memo, President Trump was not creating new funds for computer science at the Education Department. Instead, he is asking Sec. Betsy Devos to give special consideration to computer science programs — particularly those that emphasize diversity in the field — when awarding competitive grants each year.
"This will enable K-12 computer science education to hopefully get to the places and communities where it doesn't already exist," Lira said at the Red Hat Government Symposium, an event hosted by FedScoop, a sister publication of EdScoop.
"In addition to being good public policy, as you think about the next generation of people coming into your firms, we're hoping there'll be a lot of variety of computer science education programs that produce students and graduates that are able to be recruited into fantastic companies that are represented in this room and do amazing things in the economy," he said.
The Education Department has not revealed how, exactly, it plans to allocate or award the funds, but Hadi Partovi, founder and CEO of Code.org, worked closely with the Trump administration ahead of the announcement and recently told EdScoop that he recommends "100 percent" of the computer science funding go toward teacher training.
"Not because other things aren't necessary, but because most of those other things fall into place once you focus on the professional development for teachers," he said. For every one educator that understands computer science, he said, that's several hundred students who can be taught it — and taught it well.