Six universities shake up their student IDs with new Apple Wallet integration
Students can add their university ID cards to Wallet on their Apple Watches, creating both access and payment flexibility, officials told EdScoop.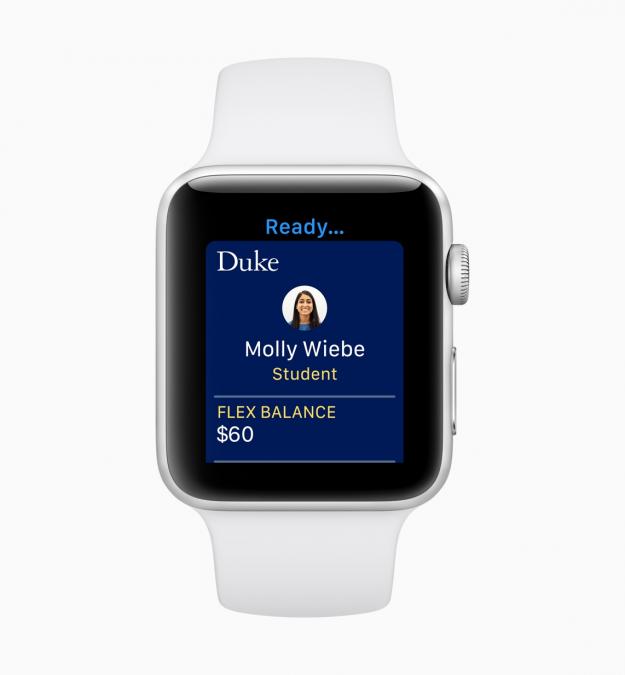 By this fall, three U.S. universities will be offering students the option of electronic student IDs through their Apple Watches.
Apple announced this and other enhancements to Apple Watch at its annual Worldwide Developers Conference, along with new time management tools for iOS 12 that will give parents more control over their children's screen time on iPhones and iPads.
"With a raise of the wrist, students can gain access to places including the library, dorms and events, and pay for snacks, laundry and dinners around campus simply by adding their ID cards to Wallet on Apple Watch," the company said in a statement.
The student ID also can be put in Wallet on iPads. The feature will allow students to use those IDs anywhere student ID cards are used, both on- and off-campus. The universities will continue to issue physical ID cards as well.
The ID program will begin at Duke University, the University of Alabama and the University of Oklahoma, while Johns Hopkins University, Santa Clara University and Temple University are preparing to implement it before 2019.
Duke vice president and CIO Tracy Futhey tweeted the official announcement. "At Duke we're continually looking for technology that can improve student experience & working with @Apple was a natural fit. Adding DukeCard to Wallet on iPhone & Apple Watch this fall will allow students to access buildings & make payments across campus in an even easier way."
"The University of Alabama is proud to work with Apple to bring the ability for students, faculty and staff to add their UA Action Card functions to Wallet on iPhone and Apple Watch," David Miller, a spokesperson for the university, told EdScoop. "Accessing Dining Dollars and getting into the residence hall will be easier and more secure without requiring a card to swipe, and we look forward to rolling out full functionality this fall."
Reach the reporter at pwaitster@gmail.com and follow her on Twitter @edscoop_news.