VMware expands cloud footprint in K-12 education
Cloud provider VMware is providing network security services to more school districts around the country.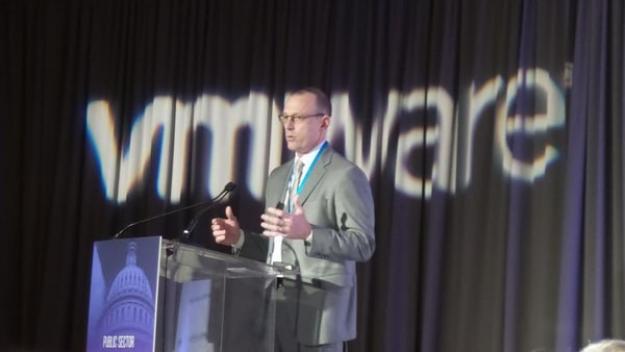 Cloud and virtualization services provider VMware is expanding its footprint in the K-12 education market, providing network security in a growing number of districts around the country, company officials said Tuesday.
The business has partnered with the New Jersey School Boards Association to provide solutions such as the Horizon Suite, which ensures that students and teachers have secure access to class work on school computers, mobile devices or from their homes.
Schools get reduced costs through server consolidation, from cloud software that supports access to data through a range of devices – and an emphasis on teaching and learning rather than network safety.
"How do we take the compute aspect of things out of the hands of the schools?" asked Tim Merrigan, vice president of SLED sales for VMware, in an interview during FedScoop's Public Sector Innovation Summit. "This allows the educators to
focus on education, and not so much the IT requirements."

School districts can choose whether they want to use VMware's cloud services to store their data. Merrigan said schools will likely start to begin the data migration over the summer.
VMware's secure classrooms campaign has taken them from school districts in New Jersey to Illinois to Texas, as district leaders and tech officers scramble to secure their networks in the face of increasing data breaches.
"How do we build solutions that can be easily adopted, that can enhance the security specifically around the network, and then extend out to the device as they incorporate more devices?" Merrigan said. "School districts
are spread so thin, they don't have the deep breadth that federal agencies have."

Company officials are working under the premise that hackers can steal kids' information when they are very young, and hold onto the information for years, possibly going undetected.
"I think our role in this is really a wholesale transition around the thought process around building infrastructure," said Dominick Delfino, vice president in the Networking & Security Business Unit at VMware. "That allows us to build a zero trust security model, which means only people who are granted access to something should have access to it."
Delfino said balancing open data is difficult when concerns arise about student privacy.
"How do I provide open access but how do I do it securely?' And how do I differentiate a student from a guest or a parent visiting the school, or a third-party contractor? If you get some malware on an iPhone
or tablet and bring it into school, there's too many entry points to put
security around a perimeter.
"What if I put a smart vending machine in a school?" he continued. "Is that now
an entry point into the school's infrastructure as well? So we have to think about
security at a much lower level now."
Though schools' budgets are often shrinking, "the one area of IT budgets that is growing consistently is the security budget," Delfino said.
But, he added, the one thing that outpaces spending is the amount of breaches that have been occurring in schools.
"We're
in a period where we are playing catch-up a little bit," he said.
Reach the reporter at corinne.lestch@edscoop.com and follow her on Twitter @clestch and @edscoop_news.