West Texas A&M president films 3,000 personalized welcome videos for students
West Texas A&M President Walter Wendler said he may be "perpetually hoarse" after filming short videos for every student admitted for the fall 2021 semester.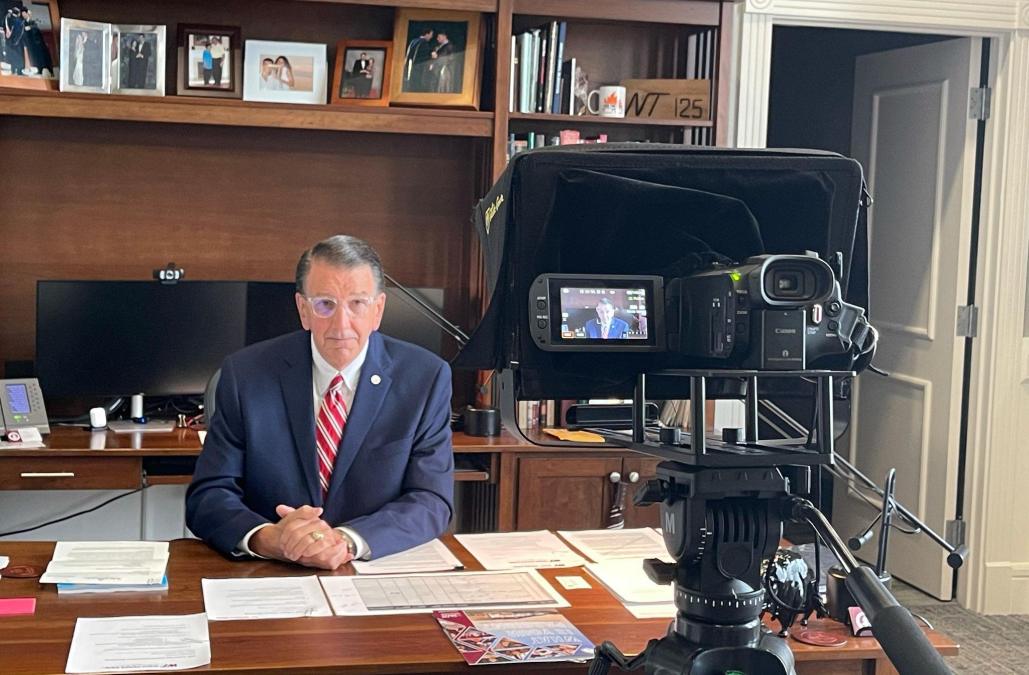 It took two months for West Texas A&M President Walter Wendler to record 3,000 welcome videos for admitted students for the fall 2021 semester, improvising in 16-18 seconds spurts as student names and majors appeared before him on a teleprompter.
His office's staff are still working on processing the individualized videos, manually closed-captioning them and sending them by email and text message to students. While the initiative so far has taken hundreds of hours, Wendler said he believes these videos are a preventative measure against the enrollment challenges universities face across the country that have not yet critically hit West Texas A&M and its rural location in the state's panhandle, but that may be on the way.
"I think I will be perpetually hoarse from that," Wendler told EdScoop. "This part of the world is pretty dry. And that dryness was exacerbated by doing 3,000 videos where I'm trying to project my voice and speak as clearly as I can."
Enrollment stayed relatively flat through the past several years, Wendler said. The university crossed 10,000 in enrollment four years ago and dropped slightly below that figure last year, a dip he credited to the pandemic. Though enrollment there hasn't dropped significantly, just "fluttered," as Wendler puts it, he saw media coverage of the demographic shifts across the country as a sign that he could soon be drawing from a smaller pool of students to recruit.
Wendler took on large-scale, personalized recruiting efforts in 2017 and 2019 by visiting more than 130 high schools in the surrounding region to speak to school leaders and students. And he said they were sometimes effective, citing one high school where seven students enrolled after his visit. The videos are designed to continue what he hopes the campus visits did: convey that the campus and region have a "hand-shake culture" that places great value on personal relationships.
"We hope if we do engage them, especially personally, that that will, in some ways, shed light on the difference between this part of Texas and some of the other parts," Wendler said. "I'm not being critical of any part of the state. It's just that this is a different kind of culture up here. And everybody says it, you know. I'm just allowing it to influence how we approach our students and even our campus."
Measuring how these videos affect enrollment is tricky, but Wendler said he's seen that recipients open the attachments multiple times. He hopes that means that students are showing their friends and family.
Wendler said he will continue to make videos for future semesters, though the university is looking at just focusing on saying majors in the videos instead of naming all the students and using a script to make them easier to edit and distribute. The university is also exploring the use of software that can automatically generate the closed captioning. But Wendler said he wants to keep the videos as personalized as possible.
"We want to make that journey as pleasant as we can and it requires personal commitment — and we forget it," Wendler said. "We think it's all cognition, you know, put the material out there online, use bots, and just get it out there. I don't see that. I don't get it."