Alabama school district borrows NFL tech playbook to equip new athletic facility
Eufaula High School teamed up with Extreme Networks, a company that works with the NFL, to install new wireless and analytics technology.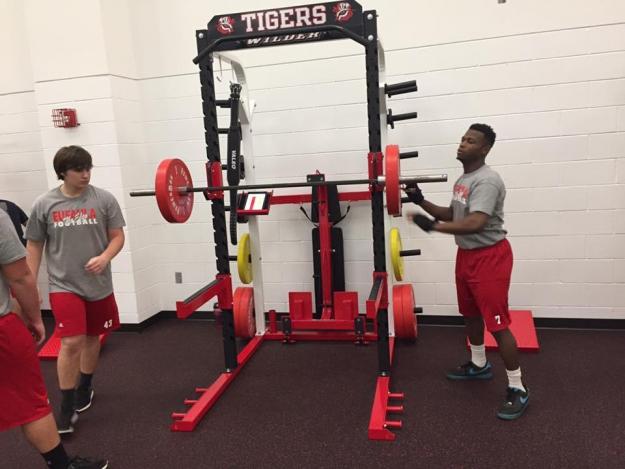 Gym workouts have gone totally high-tech for students in an Alabama school district.
Eufaula City Schools, the oldest city school district in Alabama, has outfitted its high school athletic facility with state-of-the-art technology that follows National Football League standards.
The hub, which serves about 200 to 250 student-athletes each day, offers Wi-Fi connectivity, retractable batting cages, iPads hooked up to weight racks that monitor students' strength and even water fountains that measure athletes' fluid intake.
Bryan Moore, athletic director and head football coach for Eufaula High School, said he is now able to lead online workouts with his student-athletes.
"We can use the facility's connected cameras to monitor athletes during practice, and then replay the footage to help students visualize and hone in on their areas for improvement," Moore said.
Starting last year, the district partnered with Extreme Networks, a networking solutions company that provides Wi-Fi to the NFL, to begin plans for customizing and installing the wireless and analytics technology at the new $3.2 million athletics facility. The whole installation took about 18 months to complete.
Todd Watkins, director of technology and innovation for the district, which has a primary, elementary, middle and high school, lauded the technology provider.
"With Extreme's solutions, we are discovering more ways to use technology than ever before," Watkins said. "Extreme is quite literally the infrastructure behind the success of our athletic facility and reliable wireless connection in classrooms and we value our investment in their technology. We're looking forward to rolling out additional products across our district in the near future."
In order for the vision of this new athletic center to be realized, the district needed a robust wireless network that could manage high-volume network activity all the time, officials said.
That's where another company came into play — Synergetics DCS, Inc., which partnered with Extreme to deploy several tools, including sectional antennas, access points, and cables across the facility.
The Eufaula project "has been one of the most exciting projects we've worked on thus far," said Kay Hall Nolan, senior sales executive for Synergetics. The end result is a "one-of-a-kind athletic facility that will benefit thousands of student athletes for years to come," she said.
That collaboration allows Eufaula's small IT staff — just three employees — to manage the network throughout the high school classrooms and in the new facility without interruption.
The new digs and wireless networking solutions support a "BYOD zone," with Extreme Networks' Wi-Fi extending across the high school campus. Teachers and administrators encourage students who do not have Internet access at home to use the athletic facility to stream educational videos or download content on school-issued devices or their own devices.
District athletic coaches, through wearables and other data points, can track students' achievements, including weightlifting goals and meal plans.
The district is already planning to add more infrastructure across its other schools that allows students and teachers to use mobile applications and creates new online and blended learning environments.
And with the new wireless network, teachers can prepare lesson plans, host online tutoring sessions and stream content. The additions also support the district's robotics program and its College and Career Academy.
Robert Nilsson, director of vertical solutions for Extreme Networks, said sports can be synonymous with technology.
"Take the Super Bowl for example — if we can deliver a flawless experience at the year's biggest game, we are able to support enterprises, like Eufaula, in providing excellent connectivity to align with their leading comprehensive interscholastic athletic programs," Nilsson said.
"As an education leader in Alabama, we are proud of our work in deploying our wireless solutions that were scalable from the athletic facility to the classroom, offering the school more capabilities in providing an all-encompassing digital learning environment," he said.
Editor's note: This story originally stated that Synergetics DCS, Inc., is the official provider of Wi-Fi to the NFL. Extreme Networks is the official provider, and Synergetics is a partner that resells Extreme Network's hardware and software. EdScoop regrets the error.
Reach the reporter at corinne.lestch@edscoop.com and follow her on Twitter @clestch and @edscoop_news.