California elementary school sees reading gains with blended learning program
California Elementary School in Orange, Calif., which has mostly English language learners, saw improvement in reading scores using a product from Lexia Learning.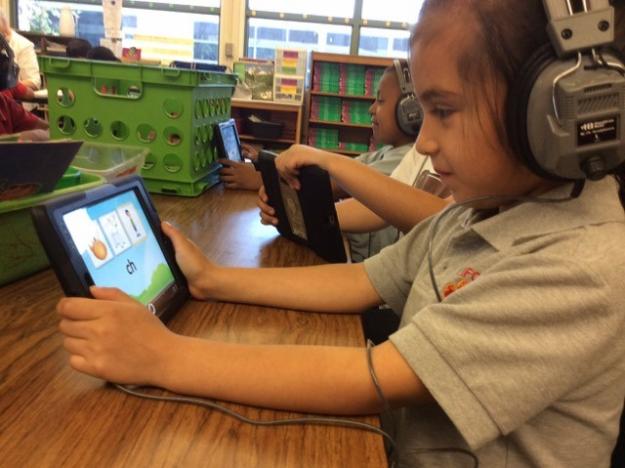 Officials at a California primary school credit higher reading scores to a blended learning program.
Teachers at California Elementary School, in Orange County, saw that second-grade students' average reading speed increased by 15 percent in a semester after using Lexia Reading Core5, a blended learning program from Lexia Learning, a reading technology company founded more than 30 years ago.
Now, officials say, they are going to roll out the program to the whole school, which serves more than 600 students in Transitional Kindergarten – the year between pre-Kindergarten and Kindergarten – to fifth grade. Nearly 90 percent of students are English language learners, which prompted school leaders to look for nontraditional methods of teaching.
"For us, the No. 1 gap was reading," said John Albert, the school's principal, in an interview with EdScoop. "Our students were having an extremely hard time being able to become grade-level readers."
Using Core5, students learn by completing assignments on tablets or computers in vocabulary, comprehension and phonics.
"Students like the interface," said Albert. "For them, it looks like they're playing games, but they're learning."
The school piloted the interactive, personalized learning program last February. In a phonics unit, students can listen to the pronunciation of a word, and choose the word spelling from several options. They get immediate feedback about whether they chose the right answer.
If a student has difficulty mastering a specific unit, the program will alert the teacher to see what the student is struggling to understand. Teachers can then adjust their lessons the next day according to the data collected by Core5.
Students also like the built-in reward feature. Each time students master a skill, they get an online certificate for the accomplishment, which is automatically sent to their teacher.
"Our teachers make a really big deal out of it when our students advance in a unit," Albert said. "[Students] really love being recognized."
During the 16-week pilot study last year, 49 second-graders used Core5 while 25 used teacher-made materials.
At the end of the pilot, 69 percent of students who used Core5 were reading according to their grade level, up from 16 percent a few months earlier. In addition, students who used the program were on average reading 88.6 words per minute, an increase of 12 words. By contrast, the control group had an increase of three words per minute.
After the pilot seemed to produce higher results, school staff voted to launch Core5 in all grades during the 2015-16 school year.
Although students complete the online activities independently and on their own pace, teachers are still integral to the program. Teachers can check an instruction plan on their end, which is generated based on students' performance data.
"I think it's enhancing teachers' effectiveness in the classroom," Albert said. "It doesn't just show that students have difficulty with vowels. It tells you very specifically which vowel sounds."
Core5 is the first blended learning tool that California Elementary School has rolled out. The program costs about $10,000 a year for an unlimited school site license. Teachers and students have access to the content management system and the app in class and at home.
The school is currently looking for a blended learning solution for math with a similar program from Lexia Learning, which was acquired by Rosetta Stone in 2013.
"I've always been a huge believer in blended learning," Albert said.
"It offers customized learning pathways for students," he added, without leaving teachers in the dark about their students' progress.
Reach the reporter at yizhu.wang@edscoop.com and follow her on Twitter @yizhuevy and @edscoop_news.