Closing the elusive 'homework gap'
Educators increasingly look to partners beyond school grounds to improve universal community broadband access.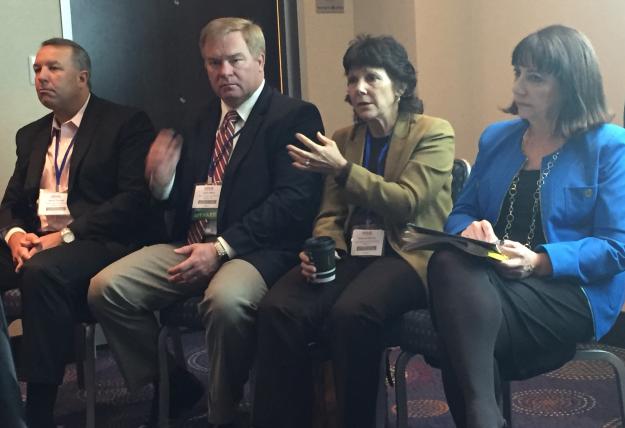 School leaders trying to eliminate digital inequities in their districts are increasingly shifting their attention outside, rather than inside, of their schools.
The issue is no longer about the lack of devices, but how to close the gap for 15 million households with school-age children who lack access to broadband connections at home, said Keith Krueger, CEO of CoSN, a leading trade group for education technology leaders meeting in Washington this week.
Some 82 percent of U.S. households with school age children currently have broadband access, according to government figures. Yet 68 percent of teachers are reluctant to assign digital homework out of concern that their students do not have safe and consistent home internet access, said Julie Evans, CEO of Project Tomorrow, a non-profit education group that tracks educational concerns.
That reticence is holding back efforts to embrace online learning initiatives, perpetuating what FCC commissioners Jessica Rosenworcel and Mignon Clyburn and others have dubbed a "homework gap" in American education.
"We saw a tidal change about 24 months ago," said Evans, when school superintendents began indicating that improving access points outside their schools had become a top priority. According to a national study her group conducted last year, "Fifty-one percent of principals say ensuring student access to technology outside of the school is a major challenge, compared to 30 percent of principals in 2010."
Read more of EdScoop's coverage of the CoSN 2016 Conference.
According to research by CoSN, Krueger said three out of four school districts across the country still aren't fully addressing the barriers to digital equity in their communities. He said CoSN has put together a toolkit to help schools, but added that educators need to work more proactively with mayors, community businesses, economic development and social services agencies to bring high speed internet to everyone.
There are lessons, however, that can be learned from the 25 percent of schools that are trying to close the homework gap, he said.
According to research from Project Tomorrow, among the schools and districts making headway:
68 percent are allowing students on campus early or after school to access the school network;
52 percent are encouraging libraries and other public locations to give students priority access;
45 percent are instructing students to download web-based assignments and resources onto USB sticks while at school;
34 percent are providing Wi-Fi access in the school parking lot for staff and students;
17 percent are working with businesses to provide safe locations for student Internet access;
5 percent are equipping schools buses with Wi-Fi hotspots and another 24 percent are considering it.
Deborah Karcher, CIO of Miami-Dade County Public Schools in Florida, said her district has had success providing students with laptops equipped with hot spot technologies, provided through an arrangement with the district's carrier, that students can take home and even share with their families.
Jeff Moss, superintendent of Beaufort County School District, which serves 22,000 students in a community of 30 islands on the coast of South Carolina, is working with the district's carrier and other partners to create a digital dome of connected Wi-Fi hotspots. He noted his school district only gets 11 percent of its $200 million annual budget from the state, so district leaders had no choice but to turn to other partners and community leaders to close the broadband gaps.The project, being phased in over three years, will provide "a 24/7 learning environment," including in local parks or "wherever kids might be," he said.
For those schools that are still trying to close the homework gap, Krueger recommended taking several initial steps, including mapping where free Wi-Fi spots — and digital deserts — exist in your community and partnering with businesses to provide "homework Wi-Fi locations" to fill in the gaps.
Contact the writer at wyatt.kash@fedscoop.com and follow him on Twitter @wyattkash.