Former 2nd grade teacher finds second career as virtual ed specialist
CoSN NextGeneration Leader Michele Eaton credits a boss who took a chance on her for paving the way with technology.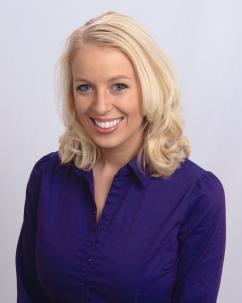 Michele Eaton's career has taken her from second-grade teacher to a recent promotion – director of virtual and blended learning at Metropolitan School District of Wayne Township, Indiana.
Eaton, who oversees curriculum and professional development for Metropolitan's online high school, and blended learning for the rest of the district, was recognized Monday as one of the 2016 NextGeneration Leaders in a program co-sponsored by the Consortium for School Networking and EdScoop.
"It's been quite a journey to get to this point," she said in an interview. "Had you asked me five years ago where I saw myself, I didn't know that this is where I would be. But I'm enjoying the director role, and hopefully taking the next step to being a CTO."
While Eaton was an elementary school teacher, she decided to get her master's degree in educational technology "because I wanted to improve what I was doing in my classroom," she said. She obtained her degree though an online university program.
"I would consider myself a 'techie,' but that doesn't necessarily equate to using technology effectively in the classroom," she said.
Read more of our coverage of CoSN's annual conference.
She graduated and started teaching graduate-level classes for the same program, Indiana University – Purdue University Indianapolis, which gave her experience in virtual and online teaching – and then she was picked up by Metropolitan's tech team, where she has been for the last four years.
"My boss took a chance on me," she said.
Eaton's other responsibilities include helping to oversee a virtual school, which operates at night, for students who have difficult schedules or need classes for credit recovery. She said her team is also talking with teachers in other schools in the district about what blended learning can look like in a regular classroom setting.
"Our teachers and
district have a rich history of online learning, so now we're taking what we learned and
seeing how it applies to a traditional classroom," she said.

She is also rolling out a blended learning project for seniors, allowing them to complete internships out in the community, and then presenting what they learn or finishing other schoolwork through an online or virtual component.
"It will have some sort of blended component, because these students may not be coming into school for a full day," she said. "We're looking at adaptive technologies that allow us to really individualize the learning experience."
Eaton said she spends a bit of time debunking myths about online learning.
"A lot of people are scared that it's replacing teachers, but, when done well, online learning does the exact opposite," she said. "You need really great teachers leading it."
She spoke on a CoSN panel last year about how to groom younger technology professionals, a group that is more in demand as older CTOs and CIOs retire or step down.
"There's not a real clear path to being a CTO," she said. "Part of that is because we have CTOs that come from IT backgrounds, classroom backgrounds, business backgrounds. So how do we identify young leaders and prepare them for that role?
"Part of it is really having strong mentors, which, I would say in my case, has made all the difference."
Eaton was one of 29 national finalists nominated by fellow education professionals from across the country and selected as a NextGeneration Leader honoree based on a nationwide vote in February organized by EdScoop.
Reach the reporter at corinne.lestch@edscoop.com and follow her on Twitter @clestch and @edscoop_news.