How to integrate creative coding and robotics into your classroom
Commentary: There's much more to teaching computer science than straight programming, says edWeb.net's Eileen Belastock.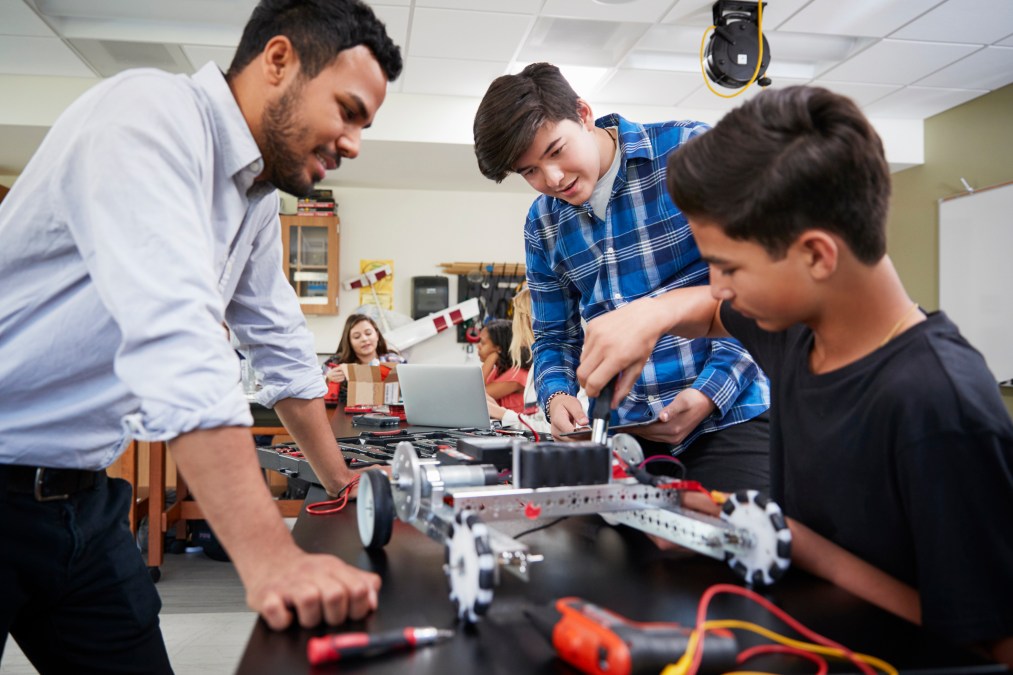 Two common misconceptions about computer science are that it's just about programming and that only teachers with computer science degrees should teach it.
Carrie Willis, technology director for Valley Preparatory School in Redlands, California, and Caitlin Arakawa, a kindergarten teacher at Valley, dispel these misconceptions during a recent webinar hosted by edWeb.net.
They said study of soft skills such as logic, problem-solving and creativity are integral to computer science curriculums. They also said teachers do not need computer science degrees to engage, enhance and extend student coding experiences thanks to the abundance of creative coding and robotics programs available today.
Using coding software, offline and online coding activities, and resources found on websites such as Code.org, students and teachers together can use a "design thinking" process to understand, define, ideate, plan, build and test coding-based projects.
It's important, Willis and Arakawa said, to create learning environments in which students and teachers understand that it is not about getting it right the first time, but rather failing forward and being inspired to keep trying.
Tools for schools
The speakers said one tool teachers can use to promote student engagement in computer science lessons is Nearpod, a piece of software designed to make it easier and faster to design lessons.
The platform's K-12 coding lessons introduce students to programming languages through content that is relatable to their own life experiences. Using customizable coding lessons, students can learn to code through engaging and collaborative language arts and mathematics activities.
Another useful tool is Kodable, an online introduction to coding and algorithmic thinking for students of any age and experience. Through tutorials, students can learn necessary high-level computer science concepts such as problem solving, computational thinking, sequence, conditions, loops, functions and debugging.
An online scavenger hunt platform called GooseChase allows teachers to create scavenger hunt-type games with coding missions that even the littlest coders can master.
As early as kindergarten, Common Core math requires students to learn abstract math concepts via numbers, objects and pictures. Incorporating tools such as ScratchJr and Scratch, students can engage in algorithm-based activities with pictorial representations of math concepts that are both appropriate for younger students and challenging for older students.
Robots from Wonder Workshop, meanwhile, provide students a platform to apply programming skills depending on their skill levels.
Bringing coding into the sunshine
Coding contains abstract concepts that can be difficult for some students to comprehend. Using tangible offline and online coding activities is an effective way to introduce algorithmic thinking through individualized learning experiences. These types of coding activities engage student through movement, collaboration, and even exposure to fresh air and sunshine.
Whether it is creating mazes on an asphalt playground or taping off math squares on a classroom floor, students are given opportunities to collaborate as coders, debuggers and human robots.
A gingerbread coding activity paired with various gingerbread books can be great cross-curricular activities in which students use logic and programming skills to create a path to a gingerbread house.
When students need to get their wiggle on, "Dance Party: Unplugged" from Code.org is a creative and engaging activity to introduce common programming terminology such as events. These coding activities also require little teacher prep and apply to beginner programmers of all ages.
Every letter in the acronym
Arakawa created an "all-inclusive" STEAM lesson for her kindergarten class that hits a variety of standards across domains: science, technology, engineering, art and mathematics. In it, students read Balloons Over Broadway by Melissa Sweet, use Nearpod to take a virtual field trip to the parade, and take a video tour on Macys.com of the engineering and design process behind the scenes of the parade's balloons production. Using Seesaw, students design their own floats and write persuasive letters to get Macy's to pick their balloons for the parade.
Arakawa adds robots to the mix by having students draw their balloon designs on paper, attach them to balloons and secure each balloon to a Dash robot. Students then tape out the parade routes and draw landmarks connected to boxes and set their programmed balloons along the parade route using Blockly, a Wonder Workshop app.
Arakawa extends the lesson by collecting student work, recording the design-thinking process and creating a Google Form for parents and other teacher groups to vote on the top three balloons.
This online/offline creative coding and robotics activity gives students a wider audience for their work and motivates them to put their best effort forward, as well as create a sense of pride and accomplishment.
About the presenters
Carrie Willis is the technology director and STEAM coordinator at Valley Preparatory School, a private school in Redlands, California, educating students in grades preschool through eight. She was responsible for the design and implementation of her school's recent STEAM lab addition, which was established in 2016. During her 17-year teaching career, she has developed a love for educational technology and project-based learning. Carrie helps to inspire educators not just on her own campus, but around the world, by sharing her love for coding, robotics, movie production, engineering and design, and all things STEAM and edtech, through social media and presentations at local and national conferences. Carrie is also a strategic outreach manager at Wonder Workshop.
Caitlin Arakawa is a kindergarten teacher at Valley Preparatory School in Redlands, California, and a lover of all things technology. She takes every opportunity possible to infuse technology into her daily lessons. She is an enthusiastic and relatable educator who likes to learn, share and connect with her fellow colleagues. Caitlin is an Apple Teacher, as well as a teacher ambassador for educational platforms such as Nearpod, ClassDojo and Discovery Education.
Join the community
Coding & Robotics K-8 is a free professional learning community on edWeb.net that supports teachers, administrators, and all educators to help students explore coding and robotics and develop math, logic, critical thinking and problem solving skills, and challenges them to think creatively.
This edWeb webinar referenced above, sponsored by Wonder Workshop, can be found here.