In New Mexico, a collective push to close the 'homework gap'
FCC Commissioner Jessica Rosenworcel met with school and library officials as well as other education stakeholders.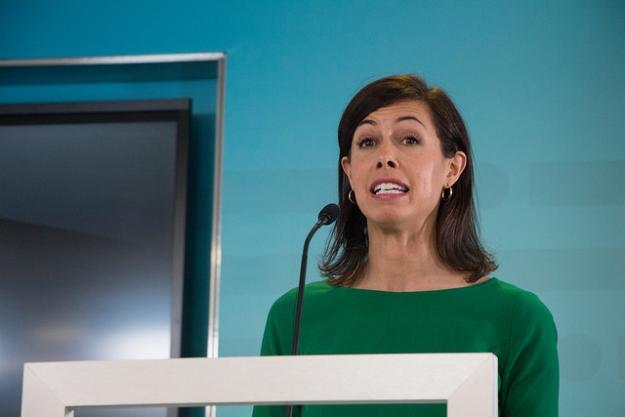 A tour of a Wi-Fi-equipped school bus and a library run by a tribal consortium were part of Federal Communications Commissioner Jessica Rosenworcel's recent visit to New Mexico, where she discussed the digital divide and heard about how the "homework gap" is creating disparity within the state's K-12 education system.
The homework gap — a term coined by Rosenworcel, a Democrat serving her second term at the FCC — is the digital inequity created by K-12 students who have high-speed broadband and device access at school, but not at home or within their communities, effectively limiting their ability to complete homework assignments that require an internet connection relative to their classmates with digital resources at home.
The commissioner, who has previously spoken out to implore the FCC and lawmakers to address the issue, visited a number of libraries and schools in New Mexico that are using different solutions to address the issue, including a library that is part of the Middle Rio Grande Pueblo Tribal Consortium and the New Mexico State Library in Santa Fe.
During her visit, Rosenworcel also toured a Wi-Fi-equipped school bus — part of Google's Rolling Study Halls initiative. An on-board tutor also rides on the bus to deliver instruction to and assist students who have long morning and evening commutes.
"In #NewMexico schools are turning ride time into connected time by outfitting school buses with wifi. It's an innovative way to bridge the #homeworkgap and help students who lack internet access at home," Rosenworcel tweeted Monday about her bus tour.
The Middle Rio Grande Pueblo Tribal Consortium, which is made up of four tribal libraries, received $3.9 million in funding from the FCC's E-rate program to connect to high-speed internet.
Rep. Ben Ray Luján, D-N.M., joined Rosenworcel on Friday, after introducing legislation this week that would expand Wi-Fi-enabled school buses as a way to close the homework gap. Under Luján's bill, schools outfitting their bus fleets with Wi-Fi would be reimbursed by the federal government's E-rate program.
Rosenworcel also held a broadband roundtable with New Mexico Deputy State Librarian Joy Poole and Luján to discuss broadband deployment throughout the state.
"Inspired by visit to Santo Domingo Pueblo library with @repbenraylujan. It's part of an innovative effort to connect Pueblo #libraries in rural #NewMexico to high-speed #broadband. Connected communities like this can prosper–and #erate is making it happen. #erateworks," she wrote on Twitter Friday during the visit.
Accompanying her during the visit were a number of stakeholders, including Sue Bearden, a project manager at the Consortium for School Networking (CoSN) who recently led the update of the organization's "Digital Equity" Toolkit, and Clyde Casciato, the Wireless General Manager of Navajo Tribal Utility Authority, as well as officials from Santa Fe Public Schools and Google.
Some elected officials, like Washington state Gov. Jay Inslee , have said the homework gap is like giving textbooks only to some students. New data from a report published in April by the Institute of Education Sciences (IES), the research arm of the U.S. Department of Education, has only amplified concern by educators and community leaders, especially those in rural areas. The report found that 18 percent of U.S. students living in rural areas have no internet access or a dial-up connection at home.