NextGeneration Leader winners announced at CoSN conference
The five winners, which include an IT operations manager and a blended learning specialist, were selected through a voting process.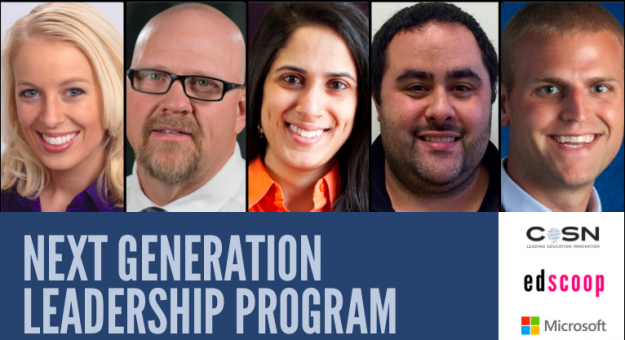 Five hardworking school professionals who represent the future leaders of education technology were dubbed NextGeneration Leaders by the Consortium for School Networking (CoSN) and EdScoop on Monday.
The program, which allowed people to vote for their top educators out of 29 semifinalists, was officially unveiled during CoSN's annual conference in Washington, D.C.
The winners are: Michele Eaton, virtual education specialist at Metropolitan School District of Wayne Township; Travis Eldridge, technology integration specialist at Laramie County School District #1; Roshni Lakhi, blended learning specialist at the Highlander Institute; Andrew Neiburg, instructional technology resource teacher at Henrico County Public Schools; and Nathan White, IT operations manager at Elmore County Public Schools.
"Building the capacity of school systems to lead a digital leap is the most essential ingredient in the successful use of technology to transform learning," Keith Krueger, CEO of CoSN, said when the program launched in November. "And core to that capacity building is ensure that we have a pipeline that builds next generation education technology leaders."
About one-third of all current school district CTOs plan to retire in six years, highlighting the need for up-and-coming specialists to take over in the field.
To qualify for the program, candidates had to be employed by a K-12 school or district, worked no more than five years as an edtech professional, and demonstrated leadership in the schools they serve.
Nearly 8,000 votes poured in after a three-week period in February, with education enthusiasts casting their favorite nominees to win.
The winners were announced at a NextGeneration Leaders award ceremony.
Reach the reporter at corinne.lestch@edscoop.com and follow her on Twitter @clestch and @edscoop_news.