NextGen Leader helps incorporate tech into unconventional lessons
The instructional technology resource teacher in Virginia is one of five CoSN NextGeneration Leaders honored at CoSN.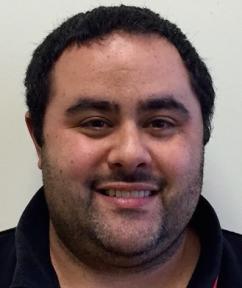 An interactive whiteboard propelled Andrew Neiburg's career in educational technology.
The former computer hardware specialist was working at Carter G. Woodson Middle School in Hopewell, Va., about seven years ago when officials gave him a Promethean whiteboard before other teachers.
"Basically, it was my job to learn how to use it and train all the other teachers within the school and throughout the county," the 37-year-old said in an interview with EdScoop.
Now, Neiburg is the instructional technology resource teacher at Henrico County Public Schools in Virginia, and he is one of five NextGeneration Leaders recognized for his innovative spirit and expertise through a competition co-sponsored by CoSN and EdScoop and supported by Microsoft. The winners were unveiled during CoSN's annual conference in Washington, D.C.
He co-teaches alongside subject teachers, helping them incorporate technology into their lessons. Henrico has a one-to-one initiative, which means each student has access to a school-issued laptop.
Read more of our coverage of CoSN's annual conference.
He also develops new programs for both teachers and students, like a peer-observation program for instructors to improve their classroom management skills.
Teachers place tags on their door alerting other teachers if they can sit in on the lesson. After a teacher observes a class, they fill out a Google form with feedback. When they submit the form, an automatic email is sent to the teacher who was watched.
"What this leads to, we hope, is we have positive conversations going on between teachers in different departments," said Neiburg.
While Neiburg helps teachers communicate better, he helps students lose unnecessary vocabulary.
After receiving countless student essays with overused words like "fun," "thing" and "stuff," and phrases like "a lot," Neiburg decided to create "word funerals" where students had to research the origins of the words they used too much and then create a "tombstone" for the offending jargon using Adobe Photoshop. The 10th grade English students also wrote obituaries for the words using Google Docs.
The lesson won a district-wide award for its innovative approach to essay writing, Neiburg said.
"Every year, we have a celebration to recognize all the best 21st century lessons that have been taught throughout the county," he said. "So we have a ceremony in May where all the teachers throughout the county are awarded."
Neiburg said these novel practices are examples of how the role of technology resource teacher is constantly evolving.
"I feel like this
job started more as a troubleshooting job – we were helping teachers
when technology didn't work," he said. "Now we're transitioning more into coaching teachers, and having them be able to
understand technology and be comfortable enough to let their students use it."
Neiburg was one of 29 national finalists nominated by fellow education professionals from across the country and selected as a NextGeneration Leader honoree based on a nationwide vote in February organized by EdScoop.
Reach the reporter at corinne.lestch@edscoop.com and follow her on Twitter @clestch and @edscoop_news.