Over 6 million students still lack high-speed internet access, report finds
But, in its annual report, nonprofit EducationSuperHighway reveals progress has been made toward closing the digital divide.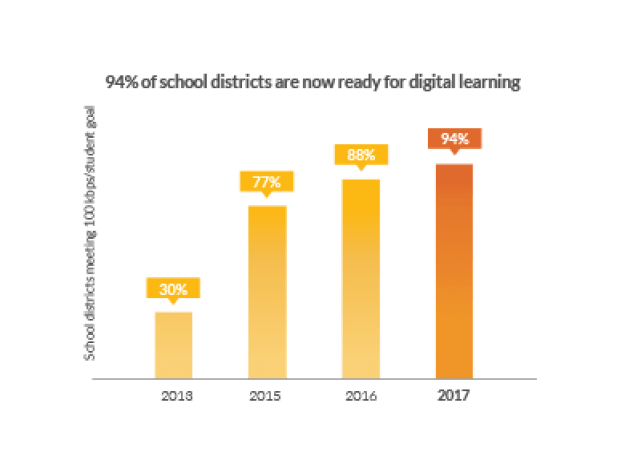 More than 5 million students in the United States gained access to high-speed internet in the last year alone, leaving just 6.5 million students to go, according to new data released by EducationSuperHighway on Tuesday.
In its third annual State of the States report, the nonprofit applauds the progress states have made toward closing the digital divide. Today, about 39.2 million students, 2.6 million teachers and 74,000 schools have access to digital learning opportunities, and 94 percent of districts across the country meet the Federal Communications Commission's minimum goal of 100 kilobits (kbps) per second per student.
"We're seeing a lot of excellent progress," said Evan Marwell, CEO of EducationSuperHighway, which was founded in 2012 to support America's public schools in obtaining and upgrading broadband access. "For us, the goal has always been to have everybody connected by the start of the school year in 2020. I feel like we're continuing to make great progress and be on track for that goal — maybe even ahead of schedule."
Since last year's State of the States report was published, the number of students who don't have high-speed internet access has decreased by 45 percent, and Marwell said he's "very optimistic" about coming through for the 6.5 million kids who remain unconnected.
Most of the districts that have not reached the FCC's 100 kbps per student minimum can obtain that high-speed broadband through a package already being offered to a comparable district in their state, he said. These districts tend to be located in urban and suburban areas.
The districts that lack fiber infrastructure, on the other hand, are mostly rural, and they're concentrated in some of the largest states, like California, Texas and Illinois.
The challenge for rural schools, Marwell said, is that they are typically far removed and resource-strapped, making it difficult to come up with the $100,000 needed to get a fiber connection.
"For most rural school districts, that's really beyond their means," he told EdScoop. "I'm less optimistic about bringing fiber to [them]."
This is an area that the FCC needs to prioritize, Marwell said. He hopes that Chairman Ajit Pai will follow through on his promises to close the digital divide and to reduce the bureaucracy of the E-rate program, which helps schools and libraries afford broadband. "That, hopefully, means faster approval for fiber projects," Marwell said.
Efforts to connect students to high-speed internet have emerged from every level — local, state and federal — but governors especially have been "stepping up and putting up funding" in recent years.
Forty-five governors have committed to supporting "21st century" educations in their states, and together they have allocated almost $200 million in state matching funds for broadband.
Nine states now boast that 100 percent of their students are connected to high-speed broadband, the most recent being Arkansas earlier this summer. Others include Hawaii, Kentucky, North Dakota, South Dakota, Utah, Vermont, West Virginia and Wyoming.
States like Texas, Massachusetts, Montana and New Hampshire are not far behind, Marwell said. New Mexico, too, has recently made significant gains.
"We're really proud of New Mexico," Marwell said. "The fact that they, in what is a very rural state, have gotten fiber to 99 percent of their schools is truly remarkable."
"Some of these states started so low and they have some of the hardest schools to connect, and they're just chipping away at it and making progress."
The progress is aided by the fact that, since 2013, the cost of broadband has declined by 78 percent — from $22 per Mbps in 2013 to $4.90 per Mbps in 2017.
"We have to highlight the role service providers have played" in helping schools access high-speed internet, Marwell said. "They have been really key in driving down the cost of bandwidth for schools. We're really excited at the way service providers have said, 'hey, we have a responsibility in this.'"
The website hosting the report allows visitors to see state-by-state comparisons, including notable milestones and areas for improvement.