Top 10 IT issues in higher education point to deeper story
EDUCAUSE's Susan Grajek highlights how a new approach to its just-released annual IT report revealed a larger narrative for higher ed officials.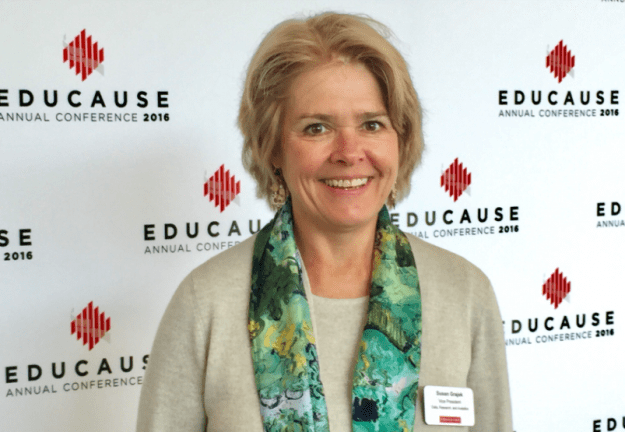 Susan Grajek describes herself as "absolutely a data geek." She is perhaps better known in higher education circles for her IT leadership at Yale University, where she taught data management and later oversaw the university's academic computing and IT operations before joining EDUCAUSE six years ago as its vice president for communities and research.
She may be best known, however, for her work pulling together the views of 350 or so college and university CIOs each year for EDUCAUSE's Top 10 IT Issues list.
The list for 2017, originally unveiled in skeletal form at the association's annual conference last October, was formally released last week as part a larger report on the state of IT in higher education.
Grajek shared some of her insights behind this year's findings with EdScoop in an interview during EDUCAUSE's conference on condition that they not be published until the full report was released. She also described how a new research approach this year, involving structured interviews with EDUCAUSE members, resulted in a more revealing view on the issues college and university leaders, not just CIOs, are facing.
What emerged, she said, was that "IT took a back seat in the narrative" to a larger story — namely how IT forms the very "foundations of student success in higher education," she said.
"Over and over again when we asked [EDUCAUSE members] that culminating question, 'What does higher education look like if we get it right?' they kept tying IT back to student success. They said if we can run our institutions more leanly and more efficiently, we can take some of the money that we spend on infrastructure and administrative systems and devote that to IT that helps students learn more effectively, and maybe help lower the cost of an education."
"It's clear that these IT leaders are not sitting there in their organizations enamored with the technology for technology's sake. They understand their role at the institution and they understand the role that IT plays," she said.
Top 10 IT issues
"The theme of student success is not immediately apparent when scanning the 2017 Top 10 IT Issues list," she said in her formal report. "In many ways, the list differs from previous years only on the margins."
As a refresher, here is capsule view of the top 10 IT issues facing higher education officials, based on a series of interviews and polls with EDUCAUSE members:
1. Information security
2. Student success and completion
3. Data-informed decision-making
4. Strategic leadership
5. Sustainable funding
6. Data management and governance
7. Higher education affordability
8. Sustainable staffing
9. Next-generation enterprise IT
10. Digital transformation of learning.
However, Grajek said these core issues pointed to a deeper set of themes for higher education CIOs and the institutions they support. Those themes ultimately fit into a pyramid centered around leadership that supports student success and has at its foundation the components that sustain IT operations and data management.
"Effective leadership is at the center of this pyramid because that is the make-or- break [component]. We have developed a series of maturity indices that enable institutions to benchmark and track their progress in eight different digital capabilities, " she told EdScoop.
What's important about those digital capabilities, she said, is "really recognizing that, to be successful with technology, you need more than technology. You need the right people, you need the right processes, you need the right policies, you need the right levels of investment, and over and over and over again, you need leadership to focus the minds."
Foundational view
At the same time, the report's "IT Foundations" have never been more important, she said. She pointed to information security, for example, as a critical component, citing a number of reasons why it topped the top 10 list this year, for the second year in a row.
"One is just simply our data. Everywhere there's more data, they're more important, and they're distributed over many, many locations, individuals, and devices. The complexity of what we have to protect has never been as great as it is now," she said.
"The other thing is that just the vectors of attack keep growing and keep increasing. Just as we get on top of it, they get ahead of us," she said.
"It's really all about the risk to the institution, the risk to the individuals in the institution and mitigating those risks rather than a strategic direction that anybody would choose to go into like improving teaching and learning and research and the like," she said.
Another critical component, and new to this year's list, is "next generation enterprise IT" — shorthand for the need to develop and implement "enterprise IT applications, architectures and sourcing strategies to achieve agility, scalability, cost effectiveness and effective analytics."
"I was a little surprised that one made the top 10," she said, adding that she's happy it did, "because this is so fundamental and foundational to 'getting the IT house in order' … so that you can support everything."
Grajek also alluded to the importance of the report's "Data Foundations" — and the increasing roles data analytics and data governance play in supporting students, faculty and administrations.
Grajek highlighted two other new issues to surface on this year's top 10 list:
One is need to reposition or reinforce "the role of IT leadership as a strategic partner with institutional leadership." A second revolves around making higher education affordable together with the need to "prioritize IT investments and resources in the context of increasing demand and limited resources."
She also noted the 10th issue on the list — digital transformation of learning — has taken on a different tone from years past.
"This year, it's really about trying to apply technology to teaching and learning in collaboration with faculty — and also in ways that really reflect innovations [in the practice of teaching]. It's not technology for technology's sake; it's technology to improve learning and focus on the faculty and the academic relationship with IT," she said.
Optimistic outlook
Grajek said she felt optimistic that the provosts at more and more colleges and universities "get it" when it comes to IT and student success.
A growing number of them, she said, are "willing and able to say, for example, that 'Student success is a focus of this institution and we are going to invest as an institution in bringing IT and analytics to the advising process and improving student advising, improving the feedback that we give to students, and improving the information we give to advisors and faculty about students.' "
That is also leading provosts to "exert his or her leadership to get those IT silos to collaborate and get those folks to step out of their silos and share solutions rather than locally optimize their solutions. That is the thing that makes the difference," she said.
The full report, along with related articles and resources, including an interactive graphic illustrating how IT issues have shifted in priority over the years can be found here.