Student success drives Cal State Fullerton's digital strategies
The needs of a connected generation – centennial students — are a key focus for IT, says CIO Amir Dabirian.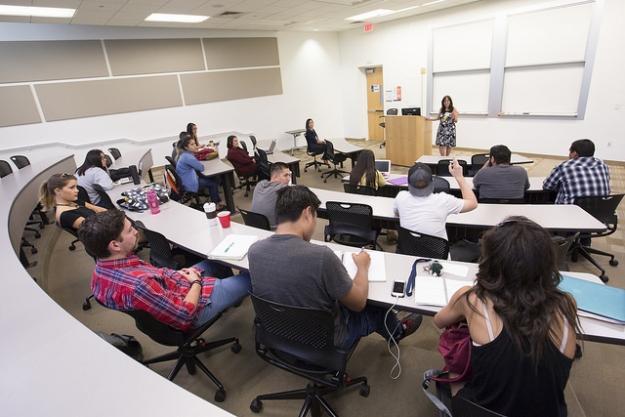 Technology serves many masters on college campuses. But for California State University, Fullerton and its CIO, Amir Dabirian, the first goal of IT strategy is that technology must help drive student success.
"Technology touches everything to do with student success," said Dabirian, CIO and vice president for information technology at CSUF. "It is important for us to have technology infused in everything they do from the day they come to campus to the day they leave us for the workforce."
Dabirian, who has served as CIO at CSUF for 13 years, described the school as "a small city" with more than 40,000 students and 4,000 and faculty and staff. "We think of ourselves as a technology campus," he said in an interview with EdScoop. "We want to provide tools to our students so they can be successful everyday in everything they do."
That translates into several objectives. One is to increase the overall six-year graduation rate at CSUF. Another seeks to reduce the current 12 percent achievement gap between two cohorts: underrepresented minority students and non-underrepresented students. A third objective involves ensuring that at least 75 percent of students participate in an advising system that integrates academic, career and personal development components.
Student success is often thought of as simply achievement in the classroom "but infusing technology across everything enables everyone to become successful once they leave the campus," Dabirian said.
Dabirian has translated the goal of student success at CSUF further by developing a set of guiding principles for the university's IT department:
Digital First moves away from paper and paper processing to leveraging processes and tools for sustainable and secure operations
Mobile First adopts and creates applications with functionality considerations first for mobile devices, second for the Web and third for desktop presentation
Cloud Ready considers application and data services first in a private or public cloud while maintaining efficiency, compliance and security
Enterprise Ready takes into account the baseline needed by most campus stakeholders while allowing for customization when necessary
Data Primacy looks at de-duplication, validated data, common data sources and content management to facilitate educated, data-driven decision-making
A key area of awareness is serving the technology needs of centennial students — those born in the mid-1990s and a growing percentage of the student population. Dabirian said that among the characteristics that distinguish centennials is that they are, more than any generation, wholly reliant on connected technologies.
"They cannot imagine living without being connected," Dabirian told EdScoop. "They need everything to be available to them anywhere, anytime. Access to all their devices and files is very critical. The concept of mobility is huge for them."
For the IT shop, that means building and expanding an agile and secure technology infrastructure to furnish reliable, effective and sustainable services.
"The No. 1 challenge is sustaining the infrastructure we need to make sure we have enough bandwidth and Wi-Fi capability for these new demographics," Dabirian said.
Among the IT shop's infrastructure goals in its strategic plan for the few years are increasing campuswide Wi-Fi coverage to 90 percent, with at least 25 percent of enterprise IT services in the cloud, and making sure that data is secure.
Another goal is to acquire and implement innovative technologies that let the campus community collaborate, innovate and use new tools that support learning. For the IT shop, that means finding and deploying useful applications that keep students connected and enable them to create media and collaborate, Dabirian said.
One of those tools is Dropbox, a cloud storage provider that is often used as a file-sharing service, which CSUF rolled out enterprise-wide several years ago. Currently, nearly 8,000 students and 3,000 faculty and staff members are using Dropbox for cloud storage and sharing information, he said.
Dropbox aligned well with IT's goals of anytime, anywhere, any device Mobile First strategy, it has a high degree of information security, and it's familiar to many users as a widely available consumer product, according to Dabirian.
Dabirian said that faculty and students frequently use Dropbox as a collaboration tool. "When you have a [new] faculty committee, for example, they first thing they create is a Dropbox so the committee can share files and collaborate," he said. "When students have a group project, they create a Dropbox to share information and communicate."
In the long run, such digital collaboration will play a major role in educating today's students, Dabirian said. "It enables them to move into the workforce and be 21st century citizens of the future," he said.