What more schools should know about device rollouts
Top tech directors at TCEA 2017 share how collaboration and planning can help districts scale device rollouts of any size.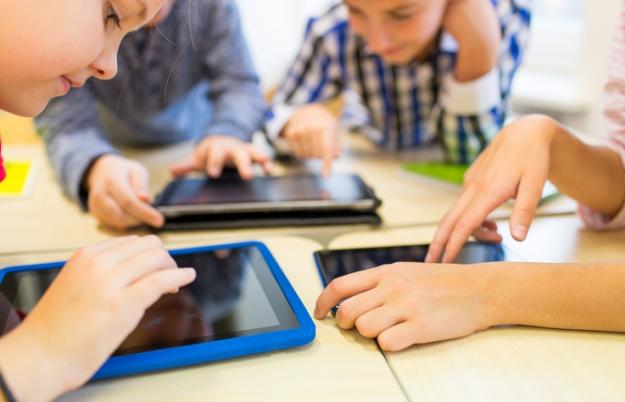 As more school districts issue learning devices to more students, the job of rolling out and managing those devices keeps growing in complexity, making once basic considerations more complicated: Which devices do you choose? How will you manage them? And how do you keep student data safe?
Tech experts who gathered from across the country at last week's TCEA 2017 conference in Austin, Texas, offered a variety of approaches to address those challenges. Following up on our coverage of top show takeaways, we've collected a number of helpful insights for technology leaders looking to make the most out of the their device rollouts.
Plan across departments
As roles in IT and instructional technology continue to merge, greater interdepartmental collaboration has become essential.
"The instruction department is making decisions that affect your [IT] department," said Carl Hooker, the director of digital learning and innovation at Eanes Independent School District with about 8,000 students outside Austin. Eanes has had a 1:1 rollout since 2012, and is now busy upgrading and refreshing devices to the iPad Air 2.
The days of siloed departments are over, said Hooker, who has worked in both technology and instruction. At Eanes, instruction and IT meet once a week to discuss challenges such as mobile device management, data privacy, and other tech topics. "I don't think teachers are thinking about this, but they should," Hooker said.
Chromebook rollouts driving changes
The impact of Chromebooks, and their ability to give students access to the internet less expensively than traditional laptops, continues to reshape the technology landscapes at many schools.
West Baton Rouge Parish in Louisiana, for instance, has deployed nearly 3,000 Chromebooks in carts across elementary, middle, and high schools — and they did it without adding any new personnel. In fact, they didn't even opt for the white-glove service, preferring to set up and train teachers all on their own, said Tammy Seneca, the supervisor for information systems and education technology.
The easy setup and the lower cost of the devices are among the reasons more districts are considering Chromebooks, the West Baton Rouge team said.
Read more: What edtech experts at TCEA 2017 had to say about data management tools, "makersmashing," virtualization and the economics of 3D printers.
While the district issued the devices in phases and conducted professional development during the summer, the rollout required overhauling the school's Wi-Fi infrastructure to put an access point in every classroom. The Chromebooks work great for their purposes, and they mostly take care of themselves, Seneca said, although she cautioned that schools should "expect an increase in repairs [to devices] after two years."
More changes ahead for iPad schools
Apple's release of its iOS 9.3 operating systems last year meant lots of new changes impacting schools with iPads. Many educators are still familiarizing themselves with the nuances of the update, which affects all devices newer than the iPad 2.
The Classroom app for iPad offers a bevy of new features, including launching and locking apps, seeing student screens in real time, and sharing student work over AirPlay.
To simplify device management, the company has also released Apple Manager, a program that helps IT departments organize their devices, users, and apps in one place. According to local Apple reps at the show, it doesn't replace third-party MDM software such as AirWatch or JAMF — because it doesn't cover all those third-party features — but instead is designed to work in conjunction with those programs.
Apple reps hinted that even more changes are coming to iOS that could impact education as early as this spring, although they predictably kept mum on the details. However, districts that are invested in iOS might consider joining a developer program called AppleSeed for IT, with memberships starting at about $100 a year. Users beta test some of the software before it's released and thus provide some advance knowledge of what's coming down the pike for education.
MDMs are not one-size-fits-all
Choosing a mobile device management solution is an extremely personal affair, and depends largely on what your district needs, said a panel of tech directors and and integration experts who spoke about their experiences with MDMs.
While everyone agreed that the solution should be easy and intuitive to learn, and require little training to get started, they also shared more specific tips for making an informed choice.
If your district uses carts or is completely 1:1, you're going to be looking for different things from your solution, said Steve Barnwell, an MDM specialist at Schertz-Cibolo-Universal City ISD, a district with about 15,000 students near San Antonio, Texas.
To Morganne Schlegel, tech director at Boyd ISD, with about 1,100 students northwest of Fort Worth, the best place to start is by talking to teachers and other end-users at various districts to discover what they like, and don't, about their MDM experience.
And perhaps most importantly, be sure to define your goals early on. If you use iOS devices, check how the MDM will play with Apple's new updates, said Chris Miller, assistant IT director for Eanes ISD.
"Ask yourself, is [the MDM] scalable?" he said, adding that the chosen solution should work with you as you increase the number of managed devices, while remaining as easy to use as when you started. "When scaling, the database back-end becomes more important."
Keep an eye on student online privacy laws
Student privacy sessions might not draw the crowds like Google tools or virtual reality, but the topic is as important as ever these days, with a long list of acronyms related to child privacy laws—PPRA, COPPA, CIPA, FERPA, WCAG—which require schools to protect student data, filter explicit content on their networks, and keep parents in the loop about school-used software.
With so many laws, there's a lot to keep track of, especially at the brisk pace districts are adopting apps and software programs. To make things easier, Clara Alaniz, a technology specialist at Plano (Texas) ISD, which serves about 55,000 students, along with her district team have created a briefing site designed to unpack these acronyms for schools (and a quick quiz to test your knowledge).
IT teams in particular need to be diligent about reading click-wrap agreements, age requirements, and data sharing, since schools—not third-party apps—are on the hook for violations. "Companies are in the business of making money," Alaniz said. "They're not going to make it easy."
Stephen Noonoo is a freelance writer and consultant covering the intersection of technology and education working on assignment for EdScoop. A former edtech editor, his work has appeared in numerous education-related publications. (Twitter: @stephenoonoo)